Kovar (ASTM F-15) Dedicated Website
Product Announcement from Ed Fagan, Inc.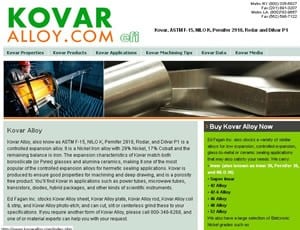 ED FAGAN INC. has a new website dedicated to our Kovar rod, sheet, plate, strip/coil products at www.kovaralloy.com.
Ed Fagan Inc. stocks Kovar (also know as ASTM F-15, NILO K, Pernifer 2918, Rodar, and Dilvar P1) in a variety of forms and sizes including:
Ed Fagan Inc. can cut, slit or centerless grind Kovar to your specifications, and stock materials are available for immediate shipment (and no order is too small).
Kovar is a controlled expansion alloy with 29% Nickel, 17% Cobalt and the remaining balance is Iron. The expansion characteristics of Kovar match both borosilicate (or Pyrex) glasses and alumina ceramics, making it one of the most popular of the controlled expansion alloys for hermetic sealing applications. Kovar is used in applications such as power tubes, microwave tubes, transistors, diodes, hybrid packages, and other kinds of scientific instruments. If you require Kovar in another form, please call 800-348-6268, and one of or material experts can help you with your request.
Ed Fagan Inc. has a large inventory of other Controlled Expansion Alloys, including Invar (aka Invar 36, NILO 36, Pernifer 36, and Invar Steel), Alloy 42, Alloy 42-6, Alloy 46, Alloy 48 and Alloy 52; and also stocks Electrical/Electronic Nickel, Soft Magnetic Alloys, and Refractory Metals and Alloys.
ED FAGAN INC. supplies the highest quality special purpose metals and alloys for Aerospace/Aviation, Defense, Electronics, Magnetic, Medical, Lighting, Optical, Telecommunications, Ceramics, Heat Treating, and other high-technology industries.
---