Magnifer 50 Soft Magnetic EMI/RF Shielding Alloy
Product Announcement from Ed Fagan, Inc.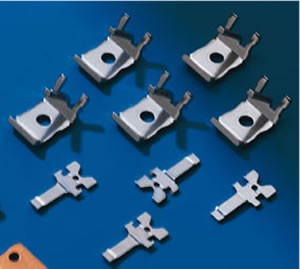 ****** Live CHAT designed for GlobalSpec Customers ******
Magnifer 50, also known as Carpenter High Permeability 49, Alloy 47-50, and EFI Alloy 50, is a soft magnetic alloy consisting of 49% Nickel, and balance Iron. Magnifer 50 is used where high initial permeability, maximum permeability, and low core loss is needed in applications such as transformer cores, highly efficient motors, shielding, specialized electronic devices, chokes, relay parts, solenoids and oscillators.
Ed Fagan Inc. stocks Magnifer 50 rod, square bar, strip/coil (annealed and rotor grade) and can cut, slit or centerless grind these to your specifications, and we also have tremendous versatility when it comes to custom sizes, packages, and unusual materials.

If you need Magnifer 50 or other special purpose alloys for high technology applications, call Ed Fagan Inc. All standard in-stock Magnifer 50 items can be shipped within 24 hours - and are often shipped the same day - and all materials can be certified with shipment.

EFI stocks a wide range of soft magnetic alloys, in a variety of forms and conditions including VIM VAR Core Iron (also know as Carpenter Vacumet Consumet Core Iron), Magnifer 7904 (also know as Carpenter HyMu 80, Hipernom, Moly-Permalloy, Permalloy 80, EFI Alloy 79), Hiperco 50, and Radiometal 4550.

Download PDF

About Ed Fagan Inc.

ED FAGAN INC. supplies the highest quality special purpose metals and alloys for Aerospace/Aviation, Defense, Electronics, Magnetic, Medical, Lighting, Optical, Telecommunications, Ceramics, Heat Treating, and other high-technology industries.

We have an extensive inventory of Controlled Expansion Alloys, Electrical/Electronic Nickel, Soft Magnetic Alloys, and Refractory Metals and Alloys. We stock these materials in a wide variety of forms including Sheet, Plate, Coil/Strip, Rod, Bar, Wire and Foil; and in many thicknesses, diameters, widths/lengths and tempers for immediate delivery.
---