Molybdenum Refractory Alloys
Product Announcement from Ed Fagan, Inc.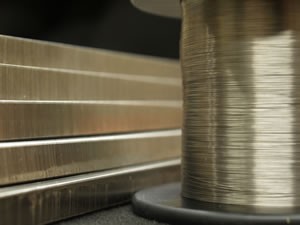 ****** Live CHAT designed for GlobalSpec Customers ******
Molybdenum's unique properties give rise to processes and applications in electronics, aerospace, nuclear and metal working industries which would not be possible with many of the more common metals and alloys. Some of the more interesting properties of Molybdenum relate to high temperature applications - high temperature strength, excellent thermal properties, good electrical conductivity, low coefficient of expansion and low vapor pressure at elevated temperatures.
Ed Fagan Inc. stocks Molybdenum in a variety of forms and sizes including:
Applications:
In missile industry, nose cones, high temperature structural parts, nozzles, leading edges of control surfaces, support vanes, re-entry cones, heat radiation shields. In electronics, cathodes, magnetron end hats, x-ray tube components. In high temperature applications, furnace windings, structural furnace members, and containers for components exposed to high temperatures.
About Ed Fagan Inc.:
ED FAGAN INC. supplies the highest quality special purpose metals and alloys for Aerospace/Aviation, Defense, Electronics, Magnetic, Medical, Lighting, Optical, Telecommunications, Ceramics, Heat Treating, and other high-technology industries.
We have an extensive inventory of Controlled Expansion Alloys, Electrical/Electronic Nickel, Soft Magnetic Alloys, and Refractory Metals and Alloys. We stock these materials in a wide variety of forms including Sheet, Plate, Coil/Strip, Rod, Bar, Wire and Foil; and in many thicknesses, diameters, widths/lengths and tempers for immediate delivery.
Please click on the links to the right for more information or request a quote today!
---