Soft Magnetic and EMI/RF Shielding Alloys
Product Announcement from Ed Fagan, Inc.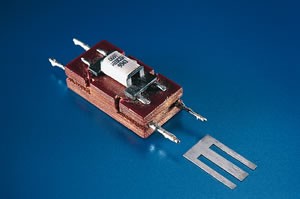 ****** Live CHAT designed for GlobalSpec Customers ******
Ed Fagan, Inc. has a large and comprehensive inventory of Soft Magnetic and EMI/RF Shielding Alloys. Soft magnetic alloys are easily magnetized and demagnetized. They are uniquely suited for specialized applications that require high permeability, low losses, and low residual magnetism.
Only several alloy families meet these characteristics. These include certain nickel-irons, silicon-irons, cobalt-irons, ferritic stainless steels, and pure iron. Selection of a particular alloy requires careful consideration.
EFI's line of Soft Magnetic alloys includes:
We can cut, slit, shear, or center less grind materials to your exact specifications, and we also have tremendous versatility when it comes to custom sizes, packages, and unusual materials. If you do not see the size or form of these alloys that you require, please contact us.
If you need Soft Magnetic and EMI/RF Shielding Alloys or other special purpose alloys for high technology applications (e.g. specialty transformer laminations and cores, toroidal tape wound cores, high quality motor laminations, stepping motors, highly efficient motors, electrical generators, pole pieces for electromagnets, magnetic bearings, and high magnetic flux devices, specialized electronic devices -- LF power transducers, chokes, relay parts, solenoids & oscillators -- etc.), call Ed Fagan Inc. All standard in-stock Soft Magnetic and EMI/RF Shielding Alloys items can be shipped within 24 hours - and are often shipped the same day - and all materials can be certified with shipment.

Download PDF
About Ed Fagan Inc.
ED FAGAN INC. supplies the highest quality special purpose metals and alloys for Aerospace/Aviation, Defense, Electronics, Magnetic, Medical, Lighting, Optical, Telecommunications, Ceramics, Heat Treating, and other high-technology industries.
We have an extensive inventory of Controlled Expansion Alloys, Electrical/Electronic Nickel, Soft Magnetic Alloys, and Refractory Metals and Alloys. We stock these materials in a wide variety of forms including Sheet, Plate, Coil/Strip, Rod, Bar, Wire and Foil; and in many thicknesses, diameters, widths/lengths and tempers for immediate delivery.
---