Specialty Alloys and Metals Slit and Ship Program
Product Announcement from Ed Fagan, Inc.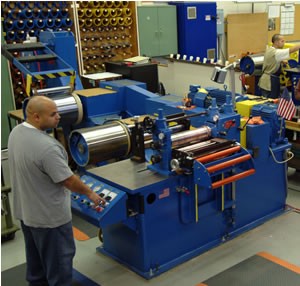 Ed Fagan Inc.'s "Slit and Ship" Program can save you time and money. What do we mean by slit and ship? You send us your material and we store it for you. When you have a requirement, we slit it to you specifications. If there is material left over, we put it back on the shelf for your future use or return it to you -- whatever your preference is.
EFI can slit your coil materials to your exact requirements with a minimum thickness of .004" in any width required up to 18" wide with a maximum of 4,000 lbs. for just-in-time delivery.
EFI stocks (or can supply you with), numerous specialty metals and alloys in coil in a variety of sizes and conditions including:
Controlled Expansion Alloys such as:
Kovar Alloy (also know as ASTM F-15, NILO K, Pernifer 2918, Rodar, and Dilvar P1)
Alloy 52 (also know as Pernifer 50, NILO 50, Glass-Seal 52)
Alloy 42 (also know as Pernifer 42, NILO 42, Glass-Seal 42)
Electronic/Electrical Nickel such as:
Nickel 200/201
Nickel 205/233
Soft Magnetic Alloys such as:
Alloy 79 (also known as Magnifer 7904, Carpenter HyMu 80, Hipernom, Moly-Permalloy, Permalloy 80)
Alloy 50 (also known as Magnifer 50, Carpenter High Permeability 49, Alloy 4750, Hiperco 50)
Refractory Metals and Alloys such as:
Molybdenum
Tantalum
Niobium
Rhenium
And EFI also stocks these and other alloys and metals in a variety of different forms (e.g. rod, bar, sheet, plate). If you need a material other than those listed above, please call or email us. Our sales people know where to find unusual materials and how to fill your unusual requirements
ED FAGAN INC. supplies the highest quality special purpose metals and alloys for Aerospace/Aviation, Defense, Electronics, Magnetic, Medical, Lighting, Optical, Telecommunications, Ceramics, Heat Treating, and other high-technology industries.
We have an extensive inventory of Controlled Expansion Alloys, Electrical/Electronic Nickel, Soft Magnetic Alloys, and Refractory Metals and Alloys. We stock these materials in a wide variety of forms including Sheet, Plate, Coil/Strip, Rod, Bar, Wire and Foil; and in many thicknesses, diameters, widths/lengths and tempers for immediate delivery.
---