Tungsten Precision Cut Wire and Pins
Product Announcement from Ed Fagan, Inc.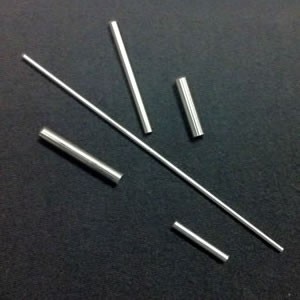 ****** Live CHAT designed for GlobalSpec Customers ******
Ed Fagan Inc. stocks Tungsten precision cut wire and pins in a range of diameters from 0.001" to 0.125". Wire and pins can be precision cut to your length, tolerance, concentricity, and straightness requirements.

Tungsten wire has a number of applications in the manufacture of medical devices due to its ability to retain its mechanical properties at higher temperatures than other metals and alloys, and due to its resistance to corrosive body acids/fluids.

Some typical uses include:
LLETZ (Large Loop Excision of the Transformation Zone) sometimes referred to as LEEP (Loop Electrosurgical Excision Procedure)


Needle Electrodes


Manufacture of Stents


Mandrels


Brachytherapy


Radiation Shielding


Ed Fagan Inc. also stocks Tungsten Rod in a wide range of sizes for applications requiring larger diameter materials.

About Ed Fagan Inc.
ED FAGAN INC. supplies the highest quality special purpose metals and alloys for Aerospace/Aviation, Defense, Electronics, Magnetic, Medical, Lighting, Optical, Telecommunications, Ceramics, Heat Treating, and other high-technology industries.
We have an extensive inventory of Controlled Expansion Alloys, Electrical/Electronic Nickel, Soft Magnetic Alloys, and Refractory Metals and Alloys. We stock these materials in a wide variety of forms including Sheet, Plate, Coil/Strip, Rod, Bar, Wire and Foil; and in many thicknesses, diameters, widths/lengths and tempers for immediate delivery.
---