Accuracy is assured with Edgetech Instruments Inc.
Featured Product from Edgetech Instruments Inc.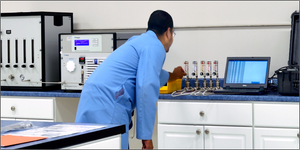 Edgetech Instruments, Inc.'s calibration laboratory is accredited to the ISO/IEC 17025:2005 standard by Perry Johnson Laboratory Accreditation, Inc., accreditation number 92175. ISO/IEC 17025:2005 is the standard for which calibration laboratories must hold accreditation in order to be deemed technically competent. This formal accreditation is recognition of Edgetech Instruments Inc.'s calibration laboratory's competence.
Accreditation has been granted to perform calibrations for dew/frost point from -80°C to 20°C, relative humidity from 5% to 95%, temperature from 10°C to 50°C and pressure from 1 psia to 300 psia. To view the ISO/IEC 17025:2005 certificate click here. To view the company's ISO 9001:2015 certificate click here.
Edgetech Instruments, Inc. now recertifies chilled mirror hygrometers made my other major manufacturers in addition to their own instruments. All recertifications and calibrations are performed against NIST traceable standards in Edgetech Instruments' accredited calibration laboratory.
Edgetech Instruments, Inc. designs and manufacturers accurate and reliable absolute humidity hygrometers, relative humidity transmitters, humidity probes, moisture and dew/frost point analyzers, relative humidity calibrators, dew/frost point generators and oxygen measurement instrumentation. Edgetech Instruments products are manufactured, calibrated and serviced to the highest industry standards in a modern facility located in Hudson, Massachusetts.