DPS3 High Performance, High Temperature Hygrometer
Featured Product from Edgetech Instruments Inc.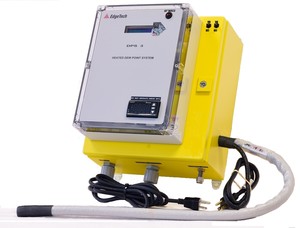 The Model DPS3 is a heated dew point hygrometer that can measure dew/frost points up to 95°C (203°F) and as low as -35°C (-31°F). This integrated system includes a microprocessor based electronics, a chilled mirror dew/frost point sensor, a sample flow metering valve, a 3 foot heated sample line, assorted tubing and fittings; all contained in a heated, temperature controlled NEMA-4 enclosure.
The heated system allows the measurement of high dew points that are above ambient temperature. Without the heated system, condensation would occur and measurements could not be taken.
The DPS3 is ideal for applications including measuring the dew/frost point or moisture content in furnaces, heat treat systems, fuel cells, chemical reactors, fluidized bed dryers, centrifuges, getters, glass plants, RTP, and heated MAP systems.
The two-stage, primary method chilled mirror dew/frost point sensor in the DPS3 provides an accurate and fundamental measurement of the dew point of the sample gas.
STANDARD FEATURES
Heated Sensor
Temperature Range: 20 to 99°C (68 to 210°F)
Dew/Frost Point Measurement Range: -35 to 95°C (-31 to 203°F)
Measurement Accuracy: ±0.2°C (±0.4°F)
Microprocessor Controlled
User Programmable Temperature Controller
Automatic Balance Control
Integral Adjustable Flowmeter
Two Available Alarm Relays
Selectable 4 to 20 mA, 0 to 5 Vdc or 0 to 10 Vdc Analog Outputs
RS232 Serial Interface
Sample Connection: ¼ inch Compression Fitting
Sample Pressure: Up to 150 psig
3 foot (1m) Heated Hose Supplied
AC Power: 100 to 240 Vac, 50/60Hz, 250 W
Optional Pressure Transducer/Compensation
Edgetech Instruments designs and manufacturers accurate and reliable absolute humidity hygrometers, relative humidity transmitters, humidity probes, moisture and dew/frost point analyzers, relative humidity calibrators, dew/frost point generators and oxygen measurement instrumentation. Edgetech Instruments products are manufactured, calibrated and serviced to the highest industry standards in a modern, ISO/IEC 17025:2017 accredited, ISO 9001:2015 registered facility located in Hudson, Massachusetts. All certifications and calibrations are traceable to NIST.