DewMaster Chilled Mirror Dewpoint Hygrometer
Featured Product from Edgetech Instruments Inc.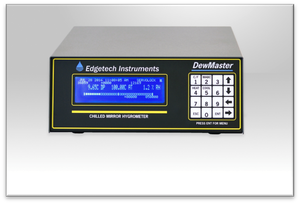 A High Precision Dew/Frost Point Hygrometer Featuring Flow-Through, Insertion and Chemically Resistant Chilled Mirror Sensors.
The Edgetech Instruments DewMaster is a fast, multi-function, high precision chilled mirror hygrometer for continuously monitoring the dew/frost point temperature, parts per million water vapor by volume or percent relative humidity in gas streams. Based on the primary method chilled mirror measurement technique, it features a user friendly, easy access sensor, automatic startup, auto-balance, self-diagnostics, analog outputs, serial interface and alarms.
Unlike other dew/frost point sensor types, chilled mirror sensors are easily cleaned and rarely require replacement. The DewMaster is a laboratory grade, high precision, field proven instrument with multiple available sensor configurations and wide applicability to fit all budgets. Available sensors can be air, fan or liquid cooled to fit the required dew/frost point range. Applications range from use as a calibration standard, to monitoring moisture content in continuous industrial processes.
All Edgetech Instruments hygrometers are manufactured and supported in the USA in a modern, ISO 9001:2015 registered facility with ISO/IEC 17025:2005 accredited calibration laboratory. All calibrations and certifications are NIST traceable.
Other Key Points
• Robust, easily cleaned chilled mirror hygrometer for industrial applications
• Remotely or locally mounted sensor options
• Desk top, rack mount, or NEMA 4X enclosure options
• Pressure compensated dew/frost point measurement and temperature probe options
• Custom sampling systems available
• Data acquisition modules with wireless connectivity available
• Can be configured for ambient air measurements
Features
• Primary method chilled mirror sensor provides extremely accurate dew/frost point measurement
• Drift free and certified against NIST traceable standards
• Best in class air cooled temperature depression
• Automatic Balance Control mode provides correction for optics contaminants
• Easy sensor access and serviceability
• Multiple interface options are standard
• Fan or liquid cooled sensors are available for low dew/frost point measurement