DewTech 390 Precision Low Dew Point Hygrometer
Featured Product from Edgetech Instruments Inc.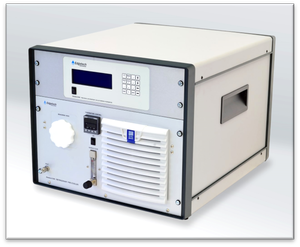 The Edgetech Instruments DewTech 390 is intended for laboratory use and has all the attributes needed for that purpose. Other hygrometers with specifications similar to the DewTech 390 are priced much higher without offering technical or useful advantages. The DewTech 390 provides the high value and top performance Edgetech Instruments' products are known for.
At the core of the DewTech 390 is a primary method, three stage Peltier cooled chilled mirror sensor. For peak efficiency, the performance of the Peltier is maximized through an integral cryo-cooling refrigeration system giving it very wide rangeability.
The DewTech 390 is ideal for metrology labs, scientific research, low dew/frost point process measurements or any application where high precision measurement of dew/frost point over a wide range with fast response and high stability are required.
The DewTech 390 is supported in the USA in a modern, ISO 9001:2015 registered facility with ISO/IEC 17025:2005 accredited calibration laboratory. It is delivered with a UKAS traceability certificate.
Features:
· Measures dew/frost point in gases to as low as –90°C (-130°F)
· Periodic recalibration is not required
· Displays moisture concentration at atmospheric pressure or compensates for pressure variations with input from an optional pressure transducer
· Can optionally be configured to display temperature or pressure plus dew/frost point
· User programmable dual alarm capability can be set for latching or auto-reset mode
· Programmable via front panel or by remote access
· Data outputs include dew/frost point and alarm status
· Analog and serial outputs include RS232 communication with terminal, printer or computer
· Scalable throughout the entire operating range of psychometric variables
Applications:

· Calibration laboratories
· Metrology laboratories
· Government agencies
· Educational institutions
· R&D test & measurement
· Pharmaceuticals quality control
· Medical gas measurement
· Furnace gas measurement
· Plastics manufacturing
· Semiconductor fabrication
· Power and energy production