HYGROMETER MEETS ASTM STANDARD FOR KNOCK ENGINE
Featured Product from Edgetech Instruments Inc.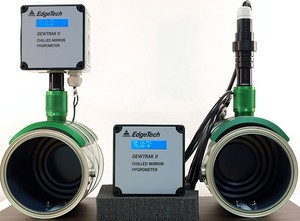 Edgetech Instruments Model DewTrak II-MO chilled mirror hygrometer provides dew/frost point, temperature, and barometric pressure analysis for Motor Octane testing in CFR engines, as per ASTM procedures D2699, D2700 and D2885. It guarantees measurement compliance for the allowable humidity range between 25 and 50 gr/lb. and the pressure range between 21 and 30 in Hg.
Easy to use and available in multiple configurations, the DewTrak II-MO provides precision measurement, long life and low maintenance.
The DewTrak II-MO is powered by 24 Vdc and can be easily fitted to existing knock engine systems. It is specifically designed to measure conditions required for Motor Octane Number (MON), and Research Octane Number (RON). It uses the primary method chilled mirror dew/frost point temperature condensation principle to determine the water vapor concentration and a barometric pressure sensor, for motor intake air/fuel mix. Outputs include 4 to 20 mA, 0 to 5 Vdc, or 0-10 Vdc and an RS232 serial port as well as electrically isolated relay contacts.
Features:
Electronics housed in IP65 enclosure
Primary method chilled mirror dew/frost point sensor
±0.5 gr/lb. accuracy
Barometric sensor
± 0.044 in Hg accuracy for barometric pressure
Long term stability and repeatability
Manifold assembly kit
LCD display
Comes with a NIST traceable certification
Probe is installed in air tight housing with minimal resistance to intake air
Can be remotely mounted or integral
Edgetech Instruments Inc. designs and manufacturers accurate and reliable absolute humidity hygrometers, relative humidity transmitters, humidity probes, moisture and dew/frost point analyzers, relative humidity calibrators, dew/frost point generators and oxygen measurement instrumentation. Edgetech Instruments products are manufactured, calibrated and serviced to the highest industry standards in a modern, ISO/IEC 17025:2005 accredited, ISO 9001:2015 registered facility located in Hudson, Massachusetts. All certifications and calibrations are traceable to NIST.