PPM1 Trace Moisture Analyzer
Featured Product from Edgetech Instruments Inc.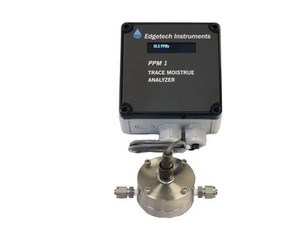 The Edgetech Instruments Model PPM1 is a trace moisture analyzer designed specifically for monitoring moisture levels in dew/frost point and PPM units. This trace moisture analyzer utilizes an electro-chemical phosphorus pentoxide sensor in combination with a proprietary semi-permeable diffusion membrane.
The principle of operation applies Faraday's laws of electrolysis which determines the the water vapor content via the dissociation current, making it a fundamental measurement of the moisture content. The PPM1 is ideally used in relatively clean, dry, inert gas applications.
Edgetech Instruments Inc. designs and manufacturers accurate and reliable absolute humidity hygrometers, relative humidity transmitters, humidity probes, moisture and dew/frost point analyzers, relative humidity calibrators, dew/frost point generators and oxygen measurement instrumentation. Edgetech Instruments products are manufactured, calibrated and serviced to the highest industry standards in a modern, ISO/IEC 17025:2005 accredited, ISO 9001:2015 registered facility located in Hudson, Massachusetts. All certifications and calibrations are traceable to NIST.