Portable Relative Humidity Calibrator/Chamber
Featured Product from Edgetech Instruments Inc.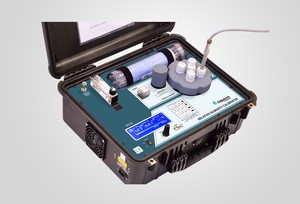 With the economical RH CAL portable calibration system, the temperature and relative humidity within the on-board chamber are controlled independently. Therefore, you are not limited to performing calibrations at the surrounding ambient temperature, which may not be appropriate for your unique calibration protocol. Using Edgetech Instruments' optical chilled mirror primary method measurement technique for traceability and feedback control, RH CAL is a standalone, portable humidity calibration system.
Great For Pharmaceutical Facilities, Process Plant, Cal Labs, and Environmental Testing.
Contributing to RH CAL's ease of use are features such as maintenance reducing Automatic Balance Cycle (ABC), an integral ambient temperature probe and D2 chilled mirror sensor which are located in the sample chamber providing not only superior accuracy but the fastest response.
IMPROVE reliability and verification of humidity probes at your facility by performing probe checks on-site
REDUCE costs associated with ensuring your current probes are performing correctly by verifying performance on site.
ELIMINATE faulty readings and lost product because the performance of your current probes is unknown.
Easy to use multi-function keypad and large display console
Precision chilled mirror moisture sensor
Precision temperature sensor
On-board humidity generator
On-board desiccant dryer
Edgetech Instruments designs and manufacturers accurate and reliable absolute humidity hygrometers, relative humidity transmitters, humidity probes, moisture and dew/frost point analyzers, relative humidity calibrators, dew/frost point generators and oxygen measurement instrumentation. Edgetech Instruments products are manufactured, calibrated and serviced to the highest industry standards in a modern, ISO/IEC 17025:2005 accredited, ISO 9001:2015 registered facility located in Hudson, Massachusetts. All certifications and calibrations are traceable to NIST.