Precision Humidity Chambers
Featured Product from Edgetech Instruments Inc.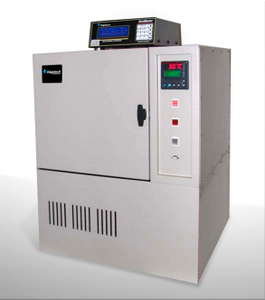 ELH Series – Precision Humidity Chambers
The Edgetech Instruments Model ELH Series is a series of precision humidity chambers, with NIST traceable accuracies in humidity (±0.5% typical), temperature (±0.1°C) and dewpoint (±0.2°C). The ELH Series consist of a programmable controller for constant precision control and uniformity, and an integrated DewMaster chilled mirror hygrometer for accurate temperature and humidity measurements.
The ELH series offers three standard chamber sizes: 1.5cu.ft., 6cu.ft. and 10cu.ft. Larger volume chambers are also available.
All chambers use an environmentally safe non-depleting refrigerant.
Applications:
Edgetech Instruments
Edgetech Instruments, Inc. is a global leader in the design and manufacture of chilled mirror dew/frost point hygrometers and other moisture and oxygen measurement devices. The company manufactures absolute and relative humidity hygrometers as well as oxygen concentration analyzers. In 2015 Edgetech Instruments achieved ISO 9001 registration certification and in 2016 the company became ISO/IEC 17025 accredited. Edgetech hygrometers are made and supported in the USA. All calibrations and certifications are traceable to NIST.
Edgetech Instrument's products include trace moisture analyzers and instrumentation, wireless and hand held portable hygrometers, absolute and relative humidity transmitters, aircraft hygrometers, humidity and temperature test chambers and instrumentation for engine test cells. Equipment can be purchased or rented.