User Friendly Hygrometer for Engine Test
Featured Product from Edgetech Instruments Inc.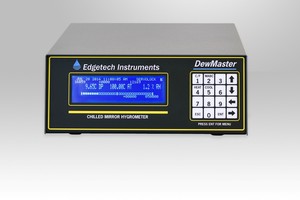 The user friendly DewMaster is a fast responding, multi-function, precision chilled mirror hygrometer used to continuously monitor moisture in engine test cells. It is commonly installed onto instrument carts for measuring the dew/frost point of air intake and exhaust streams or can easily transition into the metrology lab when you need absolute knowledge of the moisture content of gases.
Based on the primary method chilled mirror measurement technique for the determination of the dew/frost point of gas streams, each DewMaster arrives fully certified againat NIST traceable standards.
IMPROVE reliability and precision with the auto-balance, self-diagnostics, and extreme accuracy of the DewMaster.
REDUCE the time it takes to actual measurement. Unlike other hygrometers that require several steps before measurements can be made, the DewMaster is known for its easy plug n' play feature. To begin measurement, just turn the power on, That's it! The DewMaster automatically goes through its own start-up procedure and generates precise measurements in less than 2 minutes from power on.
ELIMINATE faulty readings and wait-time for replacements because of drift or the typical short life of other hygrometer sensors. When other sensors fail and have to be replaced, the long-life, reliable Edgetech Instruments chilled mirror sensor can be easily cleaned and returned back to service in less than two minutes!
With an easy to use, multi-function keypad and large display console, the DewMaster has features including:
Remote or local primary method chilled mirror sensor
Flow through head or insertion probe
Standard duty or chemically resistant sensor
Positive pressure or vacuum pump flow through the sensor
Dew/frost point, percent relative humidity, temperature, pressure, moisture
Bench top, NEMA 4, rack mount or panel mount packages available
Automatically corrects for most mirror contaminants
Multiple alarms and signal output interconnectivity
Data Acquisition
Edgetech Instruments Inc. designs and manufacturers accurate and reliable absolute humidity hygrometers, relative humidity transmitters, humidity probes, moisture and dew/frost point analyzers, relative humidity calibrators, dew/frost point generators and oxygen measurement instrumentation. Edgetech Instruments products are manufactured, calibrated and serviced to the highest industry standards in a modern, ISO/IEC 17025:2005 accredited, ISO 9001:2015 registered facility located in Hudson, Massachusetts. All certifications and calibrations are traceable to NIST.