Multi-Notch Filters
Product Announcement from Edmund Optics Inc.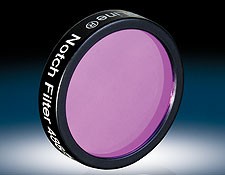 Multi-Notch Filters are a single filter solution to applications requiring the rejection of multiple, narrow bands without the need of utilizing a multi-filter arrangement. Combining a passband transmission of >90% with an OD >4 to OD >6 blocking at the center wavelengths, these Multi-Notch Filters feature high performance without sacrificing quality. Dual-, triple-, and quadruple-notch filter options are available to offer a range of options ideal for confocal and multi-photon microscopy, laser-based fluorescence instruments, and analytical and medical laser systems.
Hard coatings are used to increase durability while maintaining performance. The hard coating provides the Multi-Notch Filters with high resistance to humidity, temperature, and abrasion; it also reduces the risk of damage when being handled. Multi-Notch Filters can be cleaned similarly to other glass optics using cleaning products such as compressed air, lens cleaning tissue, and isopropyl alcohol.
---