CONASHIELD™ Electrical Insulation
Featured Product from ELANTAS PDG, Inc.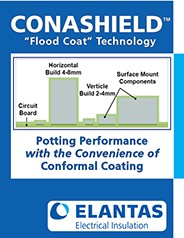 Today's electronic components require an electrical insulation that inhibits current leakage and short circuits, protects against harsh environments, aids in heat dissipation, and absorbs vibrations.
Conformal coatings provide basic protection against moisture and dust. Potting compounds provide full protection, but they add weight and cost to the component.
A true balance of properties. CONASHIELD™ has the performance of potting with the convenience of conformal coating. It provides moisture and chemical resistance with heat dissipation, protects against mechanical shock and vibration, and has convenient dispensing similar to conformal coating, all with up to 60% reduction in weight compared to potting. Brochure
ELANTAS PDG, Inc., founded in 1919 and based in St. Louis, Missouri, is a premier global supplier of specialty resins for applications in the electrical and electronic industries. ELANTAS Electrical Insulation companies are respected as the market leaders in the development and manufacturing of wire enamel, impregnating resins, potting compounds, casting resins, conformal coatings, adhesives, and specialty epoxy products used in hi-temp applications used for a number of electrical, industrial, automotive, aerospace and civil applications.