Insulation Solution for Hybrid & Electric Vehicles
Featured Product from ELANTAS PDG, Inc.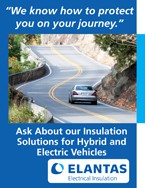 Protect your hybrid and electric vehicle's electronics, sensors, and electric motors against excessive vibration and heat, thermal shock, moisture, and other environmental hazards with insulating materials from ELANTAS PDG, Inc. Many of our products have excellent adhesion to plastic and metal substrates.
Conformal Coatings and Potting Resins for Electronics and Sensors
Check out ELANTAS PDG, Inc.'s selection of conformal coatings and potting resins designed to provide maximum protection for automotive sensors. Our insulation solutions are suited for tire pressure sensors, parking sensors, circuit boards for radios, and many other applications.
Impregnation Resins for Electric Motors
Protect your vehicle's alternators and starters with one of ELANTAS PDG, Inc.'s broad selection of impregnation resins and insulation products. These products feature low volatile organic compounds and high thermal properties suited for harsh environments. Our resins are suited for processes such as trickling, roll through, dip as well as casting.
About ELANTAS PDG, Inc.
ELANTAS PDG, Inc., founded in 1919 and based in St. Louis, Missouri, is a premier global supplier of specialty resins for applications in the electrical and electronic industries. ELANTAS Electrical Insulation companies are respected as the market leaders in the development and manufacturing of wire enamel, impregnating resins, potting compounds, casting resins, conformal coatings, adhesives, and specialty epoxy products used in hi-temp applications used for a number of electrical, industrial, automotive, aerospace and civil applications.