Bulb Trim Seal, no metal clips or adhesives needed
Product Announcement from Elasto Proxy Inc.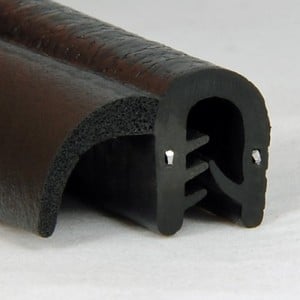 Dual Durometer Seals
Bulb trim seals are dual durometer seals with bulb and retainer sections. Typically, the bulb portion is made of a medium-density foam or sponge rubber such as EPDM. The retainer or trim portion is often made of another material, such as PVC. With their distinctive design and materials of construction, bulb trim seals offer resistance to water, ozone, sunlight, and high or low temperatures.
Product Specifications
Buyers of bulb trim seals need to consider product specifications such as weight, physical dimensions, durometer, shape, and material. Depending upon the application and industry, parameters such as temperature range, flammability, and code compliance are also important to consider. Although most bulb trim seals are black, rubber parts with different colors are available.
Dimensions, Density, Bulb Size and Location
Bulb trim seals have A, B, C, D, and E measurements. Durometer, a measure of hardness, is given in duro. Bulb trim seals vary in terms of shape and may feature the bulb portion of the seal in different locations. Bulbs vary in size and have an inch-based inner diameter (ID) and outer diameter (OD).
EPDM Rubber
Although some bulbs use 80-duro rubber, most feature medium-density EPDM. A synthetic rubber, EPDM is a closed-cell sponge material that resists moisture and withstands temperature extremes. This versatile, reliable compound also provides a relatively high degree of electrical insulation. Unlike many elastomers, EPDM also exhibits superior UV resistance, making it a good choice for outdoor applications.
Thermoplastic Rubbers (TPR) and Thermoplastic Elastomers (TPE)
Bulb trim seals are available in various types of thermoplastic rubber (TPR). Weather-resistant, reusable, and often recyclable, TPRs will repeatedly soften when heated and stiffen when cooled. Thermoplastic elastomers (TPE), which are sometimes referred to as thermoplastic rubbers, are polymers that have both thermoplastic and rubber-like (elastomeric) properties.
Rubber Compounds and Material Properties
Thermoplastic rubbers are more expensive than other compounds, but offer advantages over popular plastics such as polyvinyl chloride (PVC) Flexible and pliable, TPE is less likely to break, especially in cold temperatures. Thermoplastic elastomers also offer good shape memory and lower thermal conductivity, an important consideration in some applications.
Technical Design and Custom Fabrication
Do you need help meeting sealing challenges and sourcing bulb trim seals based on specifications such as bulb size, material, and shape? Do you need assistance with technical design, or do you need high-quality custom fabrication? How can we help you? For more information, please contact Elasto Proxy.
---