Rubber Floor Mats: Vehicle, Construction, Sanitary
Product Announcement from Elasto Proxy Inc.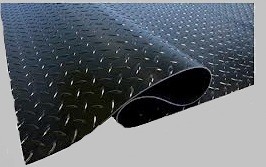 Rubber Floor Matting for Vehicles and Sanitary Applications
Elasto Proxy designs and custom-fabricates rubber floor matting for cars, trucks, buses, construction equipment, and agriculture machinery. Choose durable, weather-resistant rubber floor mats that are cut to your exact specifications using our efficient water jet cutter. Elasto Proxy also provides sanitary floor mats with antibacterial and antimicrobial properties to food processing facilities and commercial kitchens.
Foam Rubber Floor Mats
Elasto Proxy custom fabricates rubber floor matting made of foam rubber – a lightweight but durable manufactured rubber that keeps its form when cut. Foam rubber is made with a foaming agent to create an air-filled matrix with insulating and anti-static properties. Open-cell and closed-cell solid foam materials are also used in rubber gaskets, weather stripping, and for sound and vibration dampening.
Choose foam rubber floor matting made from compounds such as polyurethane (PU and PUR) and silicone (SI). Polyurethane foam rubber varies in terms of hardness, stiffness, and density. Applications range from automotive to electronics. Silicone foam rubber provides anti-slip and anti-skid properties, making it a good choice for both industrial and sanitary environments.
Rubber Floor Matting for On-Road and Off-Road Vehicles
Before ordering rubber floor mats for mobile specialty vehicles, ask Elasto Proxy's solutions providers to review your application requirements and business needs. Rubber floor matting for cars, trucks, and buses also carry product specifications such as weight, shape, dimensions, and durometer.
Car floor mats are designed to protect automotive interiors from dirt, mud, sand, spills, and stains. Typically, these rubber mats have grooves and side-walls to trap snow, water, and other substances that can stain interior fabrics and vehicle carpeting.
Truck floor mats are larger than car floor mats, but also made from foam rubber materials. Depending on the rubber compound, these floor mats in trucks may provide resistance against motor oil, gasoline, battery acid, and other automotive chemicals.
Elasto Proxy also designs and fabricates floor mats for buses and rubber floor matting for off-road vehicles such as construction and agricultural equipment. Rubber floor liners and floor mats help to protect cabin interiors from the conditions that drivers encounter on farms, forests, and job sites.
Sanitary Floor Mats for Industrial Kitchens
Elasto Proxy designs and custom-fabricate sanitary floor mats for hygienic applications such as food processing facilities and commercial kitchens. Choose rubber products that resist microbial growth and that offer anti-slip or anti-skid features. Ribbed, corrugated, and anti-fatigue rubber floor mats are also available.
For over 20 years, Elasto Proxy has provided high-quality, low-volume rubber products and sealing solutions to a wide variety of industries. Visit our website for more information, or contact us today. Do you need to design or improve a rubber floor mat for a vehicle interior? Do you need to strengthen your supply chain with sanitary floor mats? Ask Elasto Proxy. How can we help you?
---