Solid Rubber Profiles of all durometer levels
Product Announcement from Elasto Proxy Inc.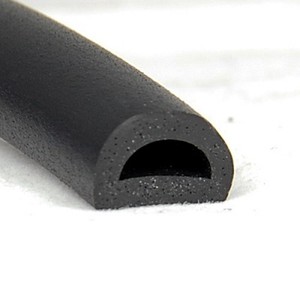 Extruded Rubber Profiles
Rubber materials of all durometer levels can be extruded into solid profiles of various shapes and sizes. Extruded rubber profiles have a fixed cross-sectional shape and provide dimensional stability, design flexibility, and high tensile strength. Solid profiles are harder and more resistant to compression than sponge profiles, and are made of rubber compounds such as silicone, neoprene, EPDM, nitrile, and TPE.
Rubber Compounds and Material Properties
Rubber materials differ in terms of properties such as service temperature and thermal expansion. For example, silicone rubber profiles can withstand very low and very high temperatures, making them suitable for applications ranging from refrigerator and freezer seals to oven door seals. Neoprene rubber profiles provide good resistance to heat, as well as to oil and weathering.
EPDM and nitrile are also suitable for some applications. EPDM solid rubber profiles offer outstanding heat, ozone, and weather resistance, good steam resistance, and excellent electrical insulation. Nitrile rubber offers excellent resistance to oils, solvents, and fuels. These solid rubber profiles also provide good abrasion resistance, good impermeability to gas, and good resilience to temperature extremes.
Elasto Proxy also offers solid rubber profiles made from thermoplastic elastomers (TPEs). A group of rubber-like materials that combine the processing strengths of thermoplastics with the best qualities of thermoset rubbers, TPE has a higher material cost than other rubber materials. Solid TPE profiles can be cost-effective for small runs, however, because thermoplastic elastomers cure right away.
Solid Profile Shapes and Application Requirements
In addition to compound selection and durometer (hardness), buyers of solid rubber profiles need to consider part shape. Elasto Proxy offers standard and custom-fabricated rubber bumpers, c-channels, e-strips, glazing seals, j-seals, p-strips, quad, square and round cords, tubing, u-channels, rubber strips, locking and self-locking channels and zipper strips.
When evaluating solid rubber profiles by shape, consider all of your application requirements. For example, rubber bumpers provide shock absorption and traction. These solid profiles can be recessed or threaded, too. Depending on the material compound, solid rubber bumpers may resist moisture, dust, and corrosion.
Do you need help meeting sealing challenges and sourcing solid rubber profiles based on duro, material, and shape? How can we help you? For more information, please contact Elasto Proxy.
---