Flow Meters with lower cost and high value
Featured Product from Eldridge Products, Inc.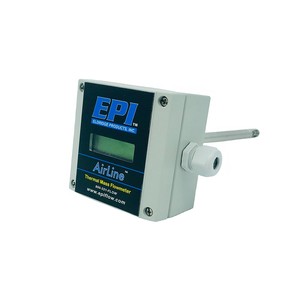 Series AL41 AirLine™ Flow meters
Low Cost / High Value
Eldridge Products, Inc. (EPI) AirLine Series AL41 Insertion is the all new series of thermal mass flow meters designed to aid in the measurement and management of compressed air systems' consumption and usage. Low cost and offered in a 316 Stainless Steel 6" probe length with extremely fast response time. Get yours today and rest assured with the accurate and reliable capability of the AirLine Series thermal mass flow meter from Eldridge Products, Inc.
The AirLine Series AL41 Flow Meters are compact Insertion style instruments. The CNC machined 316 Stainless Steel Probe is specified to be inserted directly into the user's process line; with the ability to be inserted into a compressed air process line of up to 4″. The Series AL41 features a thermal glass coated ceramic sensor for the ultimate in fast response time. The sensing elements are mounted directly in the end of the probe for exposure to the process gas. All electronics are mounted integrally on the flow section in an aluminum NEMA 4X (IP66) enclosure.