Stainless Steel Food Grade Flexible Conduit
Featured Product from Electri-Flex Company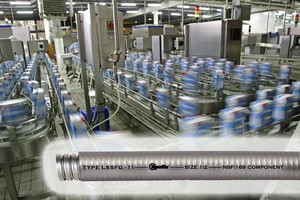 Type LSSFG is a liquidtight flexible stainless steel conduit that is a Certified Component for NSF/ANSI 169 special purpose food equipment or devices. It offers a smooth exterior for easy wash down and does not promote bacteria growth. The PVC jacket is made from an FDA approved compound per FDA CFR21 and NSF 51/61 requirements. The stainless steel core is makes it ideal for corrosive environments, such as washdown areas in food processing applications.
The standard color is clear for an aesthetically appealing appearance when used with stainless steel equipment.
Ideal applications for Type LSSFG include: special purpose food equipment such as food processing, packaging, cooking, canning and bottling equipment, as well as pharmaceutical manufacturing, meat and poultry packing facilities and restaurants.
It's benefits include:
A liquid tight flexible protective wiring raceway
Working temperatures of -20°C to 60°C
Smooth exterior for easy wash down.
Does not promote bacteria growth.
Resistant to Sodium Hyprochlorite (Bleach)
Available in 3/8" through 2" (consult factory for larger sizes)
Intended for use with Standard Liquidtight Connectors
Industries served include:
Food Equipment or Devices
Poultry Processing
Food Product Machinery Manufacturing
Equipment Manufacturers
Meat Packing Plants
Pharmaceutical Preparation Manufacturing
Download the Stainless Steel Conduit Guide or email mktg@electriflex.com to learn more today.