Shielded Conduit for Military Applications
Featured Product from Electri-Flex Company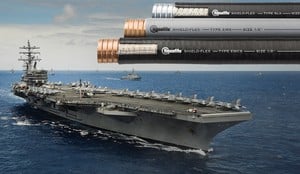 Shield-Flex, by Electri-Flex Company, represents a line of three shielded conduits, SLA, EMS and EMCS, and is designed to protect sensitive electronic circuits from electromagnetic and radio frequency interference (EMI/RFI). Use it to protect sensitive electronic circuits from outside noise in such applications as communications, radar and data transmission.But shielded conduit doesn't just keep interference out; it also keeps emissions in, which is vital to meeting European CE standards – an important issue for OEMs. Additionally, shielding conduits provide a redundant EMI/RFI system protection when using shielded cables with EMI/RFI shielded enclosures.
Shield-Flex shields sensitive equipment and circuits from EMI/RFI emissions; both ingress and egress. Connector assemblies include a grounding ferrule that contacts the conduit's internal metallic material with the connector body, producing a direct shield-to-drain (ground) simply by tightening the connector. Its flexibility and simple assembly means it takes less time to install. It uses off-the-shelf (OTS) connectors that are less expensive than high-end, mil spec shielded conduit that require costly custom fittings.
Shield-Flex is ideal for the following Applications and Markets:
Aerospace
Air Handling Equipment (HVAC)
CE – European EMI Requirements
Commercial-off-the-shelf (COTS) (CAGE Code: 09641)
Data Centers
Defense/Military/Government
Healthcare/Medical
Industrial
Radio Broadband/Antenna
Ship Building
Solar/Wind Energy
Telecommunications
Test & Measurement Equipment
Transit
Utilities
Variable Speed Drives
Wireless Communications
Additional Military Applications:
Where TEMPEST, MIL STD 461E, CE, or UL standards require a low amount of electromagnetic emission from the device and or project.
Military Radios and communications equipment
Military Shelters
Navy and Commercial vessels
Military Ground Vehicles
With three levels of effectiveness to choose from, Shield-Flex can meet your needs. All versions can be manufactured with halogen-free jacketing material, using a HF prefix.
· Good Shielding: Type SLA®, UL Listed, is a flexible steel conduit with a galvanized steel core, over which a tinned copper shielding braid is applied. The outer jacket is flexible PVC with a temperature rating of -30°C to 80°C Dry/60°C Wet/70°C Oil while the braid offers a minimum of 90% shielding coverage.
· Better Shielding: Type EMS® offers a better shielding effectiveness than Type SLA with a temperature rating of -55° C to 105° C. EMS features a flexible core constructed of a helically wound, fully interlocked strip of bronze. An all-temperature PVC jacket is extruded over the core, resulting in a sealed, waterproof raceway when assembled with liquidtight fittings.
· BEST Shielding: Type EMCS® is a hybrid of SLA and EMS because it utilizes the same bronze core and PVC jacket as EMS but gets further screening protection from a tinned copper braid as found in the SLA product. Type EMCS offers the same working temperatures as EMS.
To receive more information on Electri-Flex' line of Shielding Conduits, download the Shield-Flex Catalog, or email Marketing at mktg@electriflex.com.