UL & CSA Listed Halogen-Free Conduit
Featured Product from Electri-Flex Company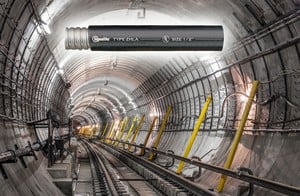 Type ZHLA, by Electri-Flex Company, is a Zero-Halogen Flexible Electrical Conduit that is both UL listed and CSA certified. It is a non-halogen, low smoke and low flame spread choice when limiting toxic materials of combustion are an important issue, such as in subways, buidlings and tunnels.

Type ZHLA is ideal for field installations in confined, public areas because its thermoplastic polyurethane jacket has excellent flame resistance, as well as low smoke, and toxicity generation characteristics. It is also resistant to ozone, hydrocarbons, moderate chemicals, oils and fuels. The flexible inner core is made from a spiral-wound strip of heavy-gauge, hot-dipped galvanized steel, providing high mechanical strength. Its standard color is black but is also available in a variety of colors, including blue, green, yellow, orange, white, gray and many more.

Electri-Flex offers several different types of halogen-free conduits, providing a range of safe choices for applications in which fire may be a concern and materials must be free of the caustic effects of halogen as products of combustion. Other types of halogen-free conduit include: shielded conduit, lightweight aluminum conduit, extreme temperature conduit, nylon Corrlok® conduit, plus many more. Applications for halogen-ree conduits include, but are not limited to, rapid transit stations, transit vehicles, tunnels, air handling equipment, elevators and stairwells, convention centers, stadiums, computer rooms, data centers, hospitals, and mines.

Download the ZHLA Spec Sheet to learn more. To receive more information on halogen-free conduits, please visit www.electriflex.com, or email Marketing at mktg@electriflex.com.