Compact LED Spectrometer for Simple Classification
Product Announcement from Electro Optical Components, Inc.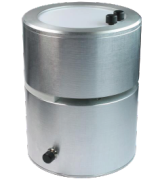 The LA-T LED Analyzer includes the optics and electronics in a compact module. This optical module includes:
8-element LED array with peak emission wavelengths of 1.3, 1.4, 1.6, 1.7, 1.9, 2.1, 2.2 and 2.3 µm;
Wideband photodiode with 2.4 µm cut-off wavelength.
Distance between the LED array and the photodiode is fixed.
Films or liquid samples (on microscope slides) are easily measured.

Battery power supply with up to 30 hours of autonomous operation.

Two modes of operation: single scan mode and cyclic scan mode.

Wireless data transfer with ZigBee protocol.

Included software for Windows OS.
---