SMD IR Source Outperforms Micro Light Bulbs
Featured Product from Electro Optical Components, Inc.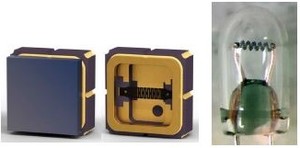 The EOC-IRE-100SMD also has higher optical power output with lower power consumption. Benefits include:
Broadband spectral emission up to 20 microns - Measurement of many different gases
Emits directional radiation - More efficient use of the optical power
Robust - Reliable, long-term stable measurement
SMD housing - Easy assembly, low profile package, Overall height < 2 mm
Low power consumption - Use in portable devices
These thermal infrared emitters can be supplied in a 3x3 mm SMD package (really small). The infrared emitters are small, powerful thermal radiation sources, optimized for portable, battery-operated and mobile sensor applications. The patented nanostructured radiation element technology makes these emitters high efficiency (up to 30% compared to 3 to 5% of MEMS). They offer up to 500% more output power than comparable technologies and can also be produced in larger (TO-39, TO-8) with even more output power. Gases in the ambient air can be analyzed more precisely in lower concentrations and in shorter measuring times. The emitter wide wavelength range works well in a variety of applications including mobile, portable devices and various wearables, for miniaturized gas sensors and handheld spectrometers. Automated low cost SMD assembly makes these sources ideal for high volume applications.