Smallest and ultra-low power multi-gas sensor
Featured Product from Electro Optical Components, Inc.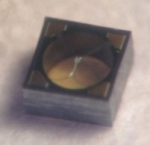 Compact, low power Gas and IR Sensors for safety and temperature measurement
Metallic Oxide Semiconductor type MEMS Gas Sensor
Smallest, high sensitivity and ultra-low power multi-gas sensor with ASIC. Containing pre-installed software and specific algorithms is designed for detecting multi-gas and ambient temperature compensation.
MEMS Thermopile Sensor with ASIC
High-performance thermopile detectors with ASIC for non-contact infrared temperature measurement solutions.
ELECTRO OPTICAL COMPONENTS, Inc. has been serving the North American Photonics Industry with quality products for over 20 years. Through our partners we supply a variety of state-of-the-art, cutting-edge optics and systems.
For questions, technical information or quotations, please email us or call toll free 1-855-362-6300; International call +1-707-568-1642.