The Best Monitoring of Fruit Ripening
Featured Product from Electro Optical Components, Inc.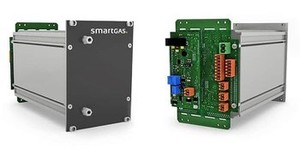 A basic prerequisite for the precise monitoring of the ripening process is high-precision measurement of the C2H4 (ethylene) concentration. A time-proven measuring principle is nondispersive infrared (NDIR) absorption. smartGAS has long offered reliable and durable NDIR gas sensors for measuring numerous gases, including the plant hormone ethylene. For more precise measurement of ethylene, the PAS sensor (photoacoustic spectroscopy) has been developed. The PAS sensors enable high-precision measurements at very low concentrations. The new PAS sensors measure ethylene concentrations in a range from 5 to 1,000 ppm with a precision tolerance of 1 percent of the measured value ±1.5 ppm. The sensor module is designed to automatically control all processes and components. No external controller required. The PAS sensor features very low zero point drift (<1.5 ppm in 24 h) and automatically compensates the water vapor cross-sensitivity to coefficients of influence below 5 ppm.
smartGAS offers a full range of NDIR and PAS sensor products for your gas monitoring needs.