Broadband (Ti:Sapphire) Rotators and Isolators
Product Announcement from Electro Optics Technology, Inc.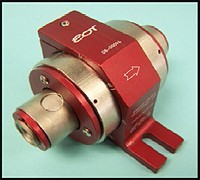 Features:
Completely passive device, no tuning required
Provides high isolation and good transmission simultaneously
EOT's broadband rotators are capable of providing ≥30dB isolation when placed between crossed polarizers having an extinction ratio of ≥1000:1.
Polarization Orientation: Please note that the broadband rotators and isolators utilize a 45° crystal quartz rotator. At the center wavelength there will be ≈ 90° polarization rotation in the forward direction. In the reverse direction, there will be ≈ 0° polarization rotation across the entire spectral bandwidth of the device. For more information on how EOT's Broadband isolators rotate the plane of polarized light, please view their Application Notes available on their Publications page.
---