4-20mA Position Sensor for Linear Slidegates
Featured Product from Electro-Sensors, Inc.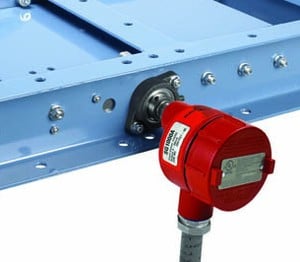 The SG1000A mounts directly to the end of the slide gate drive shaft and is easily calibrated with a single push button for setting the fully-open and fully-closed limit points of the gate. A second directional switch (clockwise/counterclockwise) enables the user to mount the SG1000A on either side of the gate. As the drive shaft rotates, the SG1000A senses the rotation and transmits a 4-20mA signal to an external device such as a PLC or optional remote display.
Accurate gate position feedback
Ideal for product proportioning
No bracket required - easily mounts to gate drive shaft
Works with either electrically or manually driven gates
Retains gate position in the event of a power loss