Adjustable Speed Switch with 1 or 2 Relay(s)
Featured Product from Electro-Sensors, Inc.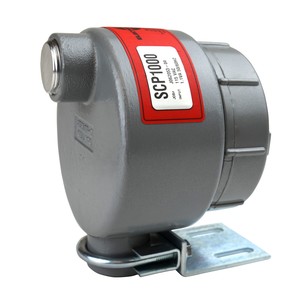 SCP series presettable speed switches are self-contained shaft rotation monitoring systems providing one or two individually adjustable relay setpoints. They are ideal for use in hazardous and wet locations where speed indication for alarm or machinery shutdown is critical for safe operation.
SCP series switches are an excellent choice for overspeed and/or underspeed protection of bucket elevators, fans/blowers, screw conveyors, rotary airlocks or virtually any rotating shaft. SCP series switches are offered as standard in two configurations: a single relay output (SCP1000) or a dual relay output (SCP2000). While many applications require only one setpoint (SCP1000), the (SCP2000) can provide additional relay protection such as bracketing the operating speed with one overspeed and one underspeed setpoint. In many industries the SCP2000 is commonly utilized with both relays set in the underspeed mode; the first relay provides warning of a slowdown, and also permits interlock wiring to shut down auxiliary machinery. If the shaft continues to slow down and reaches the second setpoint, the primary process can be wired for shutdown, maintaining the efficiency and safety of operations by preventing machine damage, product waste and costly downtime.
SCP series switches feature visual setpoint adjustment via rotary dials for ease and accuracy, and all calibration can be done with the machinery at rest.

Features:
Integrated sensor
1-100 and 10-1000 RPM setpoint ranges (others available)
Built-in start delay
Dial-in calibration does not require power
Failsafe operation in overspeed and underspeed mode
Optional EZ-SCP mounting bracket available
ETL Approved to applicable UL and CSA Standards