ETL Class II, Div. 1 WIRELESS Hazard Monitoring
Featured Product from Electro-Sensors, Inc.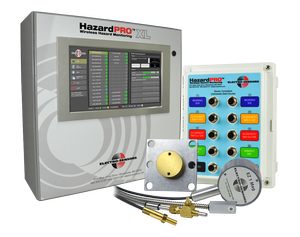 For years a large percentage of the expense of a hazard monitoring system has been the labor and material costs associated with the installation of conduit and wiring. Our HazardPRO system was designed from the ground up to communicate wirelessly, minimizing these costs. Consistent operation is ensured with self-diagnostics, transmission logging, and redundant receivers. It is now possible to invest this savings in more accurate sensors, better displays, and more intelligent controls that provide increased system reliability, ease of use, and fewer false alarms.
APPROVALS
HazardPRO™ Sensors
• Intrinsically Safe (I.S.) In:
- Class II, Div. 1, Groups E, F, G; Class III
HazardPRO™ Node
• Intrinsically Safe (I.S.) Apparatus Located In:
- Class II, Div. 1, Groups E, F, G; Class III
• Providing Intrinsically Safe (I.S.) Connections For Use In:
- Class II, Div. 1, Groups E, F, G; Class III
Features
• Integrate current sensor values with your plant control system via Modbus TCP/IP
• Field-proven reliability
• Real-time display of system data
• Intuitive touchscreen display
• Lowest total installed cost
• Battery-powered node (5+ year life)
• Quick disconnect sensors
• Built-in control relays
• Remote access via email, text, and web
• Continuous system self-check routines
• True multi-point ambient compensated setpoints
• User-friendly slow-down test and documentation
• Scalable—add equipment without re-programming
• Auto-speed calibration setpoints
• Models: XS up to 4 pieces of equipment, XM up to 16 pieces of equipment, XL up to 32 pieces of equipment