Shaft Speed Sensor with Relay - FB420
Product Announcement from Electro-Sensors, Inc.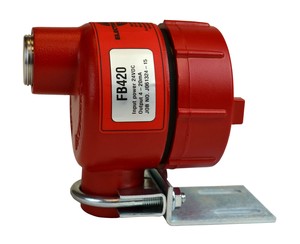 Features
• Self-contained system with built-in speed sensor and speed switch
• Relay can be set for over-speed or under-speed
• Housing is explosion proof and water resistant
• 4-20 mA output directly proportional to shaft speed
• Provides real-time preventive maintenance feedback
• Class I, Div I (C, D) Class II (E, F, G)
The Electro-Sensors FB420 speed sensor provides a 4-20 mA signal directly proportional to the rotational speed of a monitored shaft and has a 4 digit LCD display capable of displaying from 0.000 to 9,999 rpm or from 4 to 20 mA, the display is also used for calibration and trouble-shooting. The FB420 has one relay that can be programmed for failsafe over-speed alarm or failsafe under-speed alarm. Typical applications for Speed Switches and Speed Sensors include belt conveyors, drag conveyors, bucket elevators, fans, blowers, crushers, and pumps.
---