Rugged Belt Alignment Switches for Conveyors
Product Announcement from Electro-Sensors, Inc.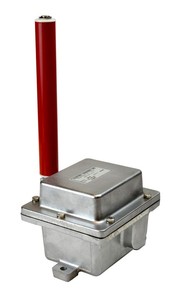 These controls are used in pairs with one switch placed on each side of the conveyor belt. Each unit can be equipped with two limit switches to produce signals indicating belt misalignment at two deviation points. The first signal point could indicate small belt deviation by sounding an alarm. The second signal point could guard against extreme belt runoff by shutting down the conveyor.
Each control consists of an aluminum housing with a red epoxy coated roller. The roller is adjustable up to 90 degrees in both directions and is positioned approximately 1" from the conveyor belt. The switch actuation points are adjustable from 0 to 45 degrees by a simple change of the actuating cam(s).
The BA100-1 and BA100-2 is furnished with a heavy-duty cast aluminum housing. The BA100-1X and BA100-2X is furnished with a heavy-duty cast aluminum explosion proof housing. Cast iron and epoxy-coated housings are also available.
BA100-1 and BA100-1X each have one SPDT limit switch rated for 20 A at 120 VAC, 240 VAC, or 480 VAC
BA100-2 and BA100-2X each have two SPDT limit switches rated for 20 A at 120 VAC, 240 VAC, or 480 VAC
Optional manual reset available
---