Hazard Monitoring System Elevator Legs
Featured Product from Electro-Sensors, Inc.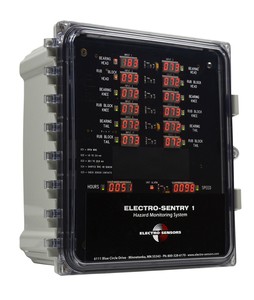 The Electro-Sentry 1 system is commonly used on grain elevator legs to monitor critical points for shaft slowdown, belt alignment, and bearing temperature as part of a predictive maintenance program to protect against catastrophic breakdowns and machinery failure resulting in product waste, machinery damage and process downtime. The ES1 has additional inputs that allow monitoring of sensors of almost any kind including industry standard 4-20 mA sensor outputs, digital pulse speed sensors, and discrete output sensors such as temperature probes, touch switches, and plugged chute detectors.All Electro-Sentry 1 components provide a standard 4-20mA signal compatible with I.S. Barriers, PLCs, Meters and Data Acquisition Systems and are available as an integrated system or as individual sensors.
At-a-glance alarm identification
13 analog inputs and 8 relay outputs
Minimal end-user calibration and setup
Easy one-button test of systems and alarms
Rugged, industrial-duty systems and sensors