Modbus Network Nodes for Remote Sensors
Featured Product from Electro-Sensors, Inc.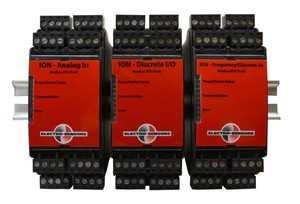 ION Analog-In
12 precision 4-20 mA analog inputs convert with 1µA resolution
Ideal for Hazard Monitoring (temperature, belt alignment, shaft speed) systems
ION Discrete I/O
6 inputs - compatible with switches and NPN/sinking discrete-output sensors (e.g. prox, photo-eye, limit-switch)
6 relay outputs – Form-A (SPST) for controlling alarms, buzzers, motor starters, other relays, etc.
ION Frequency/Discrete-In
12 dual-purpose inputs – compatible with all pulse/square-wave frequency-output sensors and signals (shaft-speed, flow, pressure) and all discrete-binary sensors/switches (prox, photo-eye, switch, relay etc.)
All inputs are separately configurable and independent: acquire frequencies and discrete-binary states in any combination.
High resolution (16 and 32-bit), high accuracy frequency measurement in any units (RPM, Hz and all user units)
Separately configurable input termination (pull-up, pull-down and Hi-Z), compatible with PNP/sourcing, NPN/sinking, line-driver and logic output sensors and signal sources.