Custom Network Switches - Your Specs Exactly
Product Announcement from Electro Standards Laboratories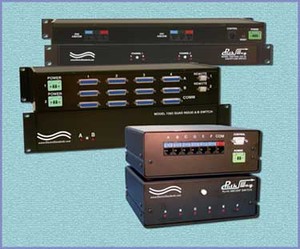 Electro Standards Laboratories manufactures state-of-the-art custom copper and fiber optic network switches to match your specifications.
Experience Counts!
Electro Standards has designed hundreds of network switches. Our engineers will use this experience to design the most efficient and cost-effective switch for you.
Contact our sales engineers at 401-943-1164, eslab@electrostandards.com, or complete and submit our Custom Network Switch On-Line Form to begin the process for your copper network switch. Click here for a Custom Fiber Optic Network Switch On-Line Form.
Electro Standards has been designing high-quality network products for over 30 years!
Manual Copper Network Switch Groups:
Remote Control Copper Switch Groups:
Fiber Optic Network Switch Groups:
Auto-FallbackESCON FC Simplex
Fiber Optic Network Switch/Converters
IP Addressable
LC Duplex
LC Simplex
SC Duplex
Secure Off-Line
ST Duplex
ST Simplex
Video Conference Room Fiber/Copper Switches
Electro Standards custom-designed network switches offer a wide array of features including:
Automatic fall-back switches based on loss of data on port A.
Automatic sensing switches that automatically switch to the port with valid activity.
Normal/redundant fall-back switches that self-configure connectivity based on the devices connected to them.
Remote power reboot switches with 10-Base-T LAN/WAN access.
Code-operated switches.
Disaster recovery automatic backup switches
Ruggedized switches designed to withstand vibrations
Code Operated via trigger character sequence
Dual remote control and power supply for redundancy
Multi-channel, multi-position
USB Type-A
10/100BASE-T LAN Access and Serial Remote Access
Special Interface KVM AB Switch with custom keyboard
Contact Closure Remote
Call our Sales Engineers at 401-943-1164 with your application. They will design the switch to meet your requirements. Email: eslab@electrostandards.com, www.electrostandards.com.
Electro Standards can also supply all of your network cable requirements.
Most manual and remotely controllable network switches manufactured by Electro Standards are available to government purchasers on GSA Schedule GS-35F-0286V.
Electro Standards Laboratories – Advanced Systems Design & Services
All network products manufactured by Electro Standards are available for export.
---