16-Chl Cat5e Switch w/Telnet, GUI & Gang Operation
Product Announcement from Electro Standards Laboratories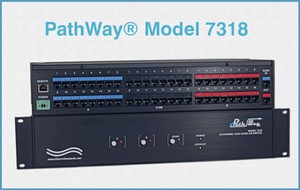 Model 7318 16-Channel RJ45/Cat5e A/B Switch with Telnet, GUI Control and Gang Operation
Gang Switch Sixteen Channels to an Alternate Path, Simultaneously!
IP Addressable!
SPECIFICATIONS:
PORT CONNECTORS: (48) RJ45 female connectors. Sixteen labeled 1 - 16 in each of the groups A, B, and COMMON.
GANG IN/OUT CONNECTORS: (1) RJ45 Female IN connector (Gang Control cabled in from previous unit); and (1) RJ45 Female OUT connector (Gang Control cabled out to next unit).
REMOTE CONTROL: (1) RJ45 connector accepts Ethernet 10/100Base-T connection and either TELNET commands or Graphical User Interface.
FRONT PANEL CONTROLS: (2) Manual pushbuttons allow local A/B switching. (1) Gang pushbutton allows the Gang Mode of the unit to be changed - include/exclude the unit from Gang Control.
DISPLAY: (2) Red LED's indicate the position, (2) Yellow LED's, one indicates Gang Mode, the other indicates front panel lockout, and (1) Green LED indicates the present power status.
POWER: UL Approved 100VAC/240VAC, 50Hz/60Hz wall mount module supplies 12 VDC, 500 mA to the unit. Has 2-prong, US, non-polarized plug.
DIMENSIONS: 19.0" W x 3.5" H x 10.0" D. (48.3 x 8.9 x 25.4 cm)
WEIGHT: Approximately 8.6 lbs. (4.0 kg)
FEATURES:
Each channel allows access to two RJ45 CAT5e compliant networks from one COMMON port.
All (8) pins of the RJ45 interface are switched via break-before-make electromechanical relays.
All 16 channels switch simultaneously.
Eliminates the need to plug and unplug cables.
The switch ports are transparent to all data.
Cat5e compliance.
Front-panel pushbutton control.
Front panel LED's display switch position, lockout, Gang Mode, and power status.
Remote Control of the switch from a 10/100 Base-T LAN Ethernet environment.
IP Addressable!
Remote Control Telnet Command Interface or Graphical User Interface that allows the user to control switch position, lockout front panel operations, change the Gang Mode, as well as obtain switch status and receive Gang Status updates.
Gang Operation allows all connected units in the Gang Mode to stay synchronized in the same position and lockout state.
Switch maintains last set position on power loss and continues to pass data.
Gang operation of multiple units to simultaneously control 32 channels, 48 channels, 64 channels, ... etc!
Attractive all metal black box packaging provides EMI/RFI shielding.
Custom length RJ45 CAT5e cables available for your installation.
The unit can be configured via its Ethernet port over a LAN connection. If a LAN connection is not available, using the OPTIONAL Ethernet crossover cable (ESL P/N 984228-006), the unit can be configured by direct connection to the Ethernet port of a computer.
Ethernet Remote port, IP Addressable, with GUI
UTILIZING THE USER FRIENDLY REMOTE GRAPHICAL USER INTERFACE SOFTWARE.
To connect to the switch from a workstation or computer having access to the LAN that the switch's LAN port is connected to, simply launch a standard web browser and type in the appropriate IP address. The Java Applet will be automatically uploaded from the switch upon connection. The environment requirement for the GUI is Java 1.7 and above.
CHANGING SWITCH POSITION AND LOCK STATUS (Graphical User Interface Main panel)
To change the position of a channel, click on the radio button "A" or "B" as desired. Locking and unlocking the front panel pushbuttons can be done by clicking on the "Locked" or "Unlocked" radio buttons.
The Path Way® Model 7318 16-Channel RJ45 Cat5e A/B Switch with Telnet, GUI and Gang Operation allows the user the capability of sharing a single port RJ45 interface device, connected to the "COMMON" port, among two other devices, connected to the "A" and "B" ports, for each channel. The Model 7318 is enclosed in a 2U, full rack size, all metal black chassis designed to provided EMI/RFI shielding and fit in a standard 19" rack.
The unit can be operated by either the front panel pushbuttons or the 10/100Base-T LAN Ethernet Remote. The unit also supports Gang Operation where multiple units can be connected and operated together in a synchronized fashion. The state of the unit can be obtained from the front panel LED's or through the Remote Telnet Commands or Graphical User Interface.
Optional Wide Range Power Module: Cat No. 517277, CE, RoHS, and UL listed table mount power module, 100 VAC/240 VAC, 50Hz-60Hz can be ordered for use in place of the standard power module that is included with the unit. Has IEC 60320 C14 inlet. Ideal for international applications.

Electro Standards can supply all of your Network Cable requirements. Click here to reach our CABLES, COPPER NETWORK Webpage.
For a custom switch call our friendly customer support staff at 401-943-1164, email eslab@electrostandards.com, or complete our online form: /Products-Custom/Copper-Switch/
All ESL products are available for export. Electro Standards welcomes International inquiries: commutateur de réseau, conmutador de red, switch di rete, prze??cznik sieciowy, switch de rede, nätverksswitch.
---