4-Channel LC Duplex Switch, Ethernet & GUI Remote
Featured Product from Electro Standards Laboratories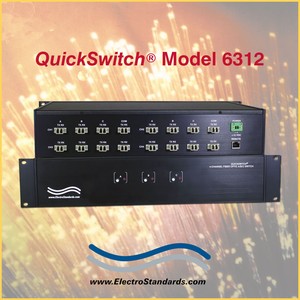 QuickSwitch® 6312 4-Channel LC Duplex A/B/C Switch, Multimode with Telnet and GUI
SPECIFICATIONS:
PORT CONNECTORS: (4) LC duplex female connectors labeled A, B, C, and COMMON for each of four channels.
FRONT PANEL CONTROL: (3) Manual pushbuttons allow simultaneous channel switching; one pushbutton per switch position (A, B, C).
DISPLAY: (3) Front panel LED's display switch position and power status.
REMOTE: (1) RJ45 female connector on rear panel accepts 10/100 Base-T LAN access Ethernet for Remote Control operation.
POWER:

UL approved 100VAC-240VAC, 50Hz-60Hz wall mount power module supplies 12 VDC, 500mA to the unit. Has 2-prong, US, non-polarized plug.
DIMENSIONS: 19.0" W x 3.5" H x 10.78" D. (48.3 x 8.9 x 27.7 cm)
WEIGHT: Approximately 6.8 lbs. (3.1 kg)
QuickSwitch® 6312 4-Channel LC Duplex Fiber Optic A/B/C Network Application with Ethernet Remote Control, (Telnet Commands & GUI)
FEATURES:
Each of four channels allows quick connection to any one of three LC interface devices from one COMMON device.
The switch ports are transparent to all data.
All fiber signals are switched via break-before-make MEMS-based mirror/prism switch technology.
Switch maintains last set position on power loss and continues to pass data.
Simultaneous control of all channels.
Front panel pushbutton control.
Control of the switch position from a 10/100Base-T LAN Ethernet environment. IP Addressable!
Remote Control Telnet Command Interface that allows the user to control switch position, lockout front panel operations, obtain switch status, as well as, query firmware version, query serial number and enable/disable autosend of switch positions.
Graphical User Interface that allows the user to control switch position, lockout front panel operations, obtain switch status.

Remote control of the switch is password protected, where the password protection can be disabled.

Front panel LED's display present position and power status.

All A, B, C, and COM ports are LC Duplex, Multimode, 62.5/125 micron, and support a wavelength of 1300 nm.

The fiber ports are configured per TIA/EIA-568-B.3, where the TX of the COM port is routed to the RX of the A/B ports and vice versa.
The QuickSwitch® 6312 4-Channel LC Duplex A/B/C Switch, Multimode with Telnet & GUI allows the user the capability of sharing a single port LC Duplex interface device, connected to the "COMMON" port, among three other devices, connected to the "A", "B" and "C" ports for each of four channels. The QuickSwitch® 6312 is enclosed in a 2U, full rack size, all metal, black chassis designed to fit in a standard 19" rack.
Remote access can be accomplished using an Ethernet 10/100Base-T connection via Telnet Commands or Graphical User Interface.
Users can then monitor status, lockout front panel pushbutton control, and control switch position.
OPTION: WIDE RANGE POWER MODULE
(Cat No 517277) CE, RoHS, and UL listed table mount power module, 100 VAC-240 VAC, 50Hz-60Hz for use in place of standard power module that is included with the unit. Has IEC 60320 C14 inlet. Ideal for international applications.
TO READ THE ARTICLE EITHER CLICK THE LINK: "HOW TO DETERMINE THE RIGHT FIBER OPTIC NETWORK BACKUP SWITCH FOR YOUR APPLICATION", click link to read as a pdf. You need Acrobat Reader to view the file.
QuickSwitch® is a registered trademark of Electro Standards Laboratories.
QuickSwitch® Fiber Optic Switches are available in many configurations: auto fallback, switch/converters, multimode & single mode, and secure off-line positions. Check out our complete line of QuickSwitch® fiber optic switches.
For custom fiber optic network switches contact our friendly sales support staff at 401-943-1164; or email: eslab@electrostandards.com, or complete our online Custom Product Request form.
Electro Standards can supply all your Fiber Optic Cable requirements.
All ESL products are available for export.
Electro Standards welcomes International inquiries: commutateurs à fibres optiques, interruptores de fibra óptica, switch in fibra ottica, switches de fibra óptica, fiberoptiska switcher.