8-Channel DB9 A/B Switch, Simultaneous Control
Featured Product from Electro Standards Laboratories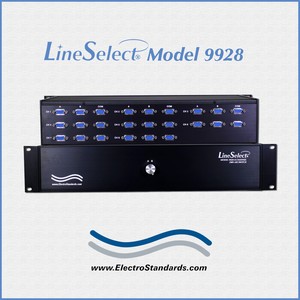 Model 9928 8-Channel DB9 A/B Switch, Manual, Simultaneous Switching, Rackmount
Switches Eight Channels to an Alternate Path, Simultaneously!
SPECIFICATIONS:
PORT CONNECTORS: (3) DB9 female connectors labeled A, B, and COMMON for each of the 8 channels.
FRONT PANEL CONTROL: (1) Rotary Switch on front panel selects A or B position for all 8 channels.
POWER: No power required. Manually operated.
DIMENSIONS: Rackmount 19.0" W x 3.5" H x 8.8" D (48.3 x 8.9 x 22.4 cm)
WEIGHT: Approximately 5.2 lb. (2.4 kg)
FEATURES:
Each of eight channels allow quick connection to any one of two devices from one COMMON device.
Simultaneously switches all eight channels via front-panel rotary switch.
High quality sealed switch with self-wiping low impedance contacts.

Pins 1 thru 8 of DB9 interface are switched via break-before-make rotary switch. Pin 9 has no connection.

Transparent to data speed and format.
Improves computer network efficiency by allowing sharing of peripherals.
Eliminates the need to plug and unplug cables.
Attractive all metal black box packaging provides EMI/RFI shielding.
no external power required. Manually operated.
Rackmount configuration is standard, height 24 (3.5")
Lifetime warranty against manufacturing defects.
With each of its eight channels, the Model 9928 DB9 A/B Switch allows the user to access two DB9 interface devices connected to its A and B ports with one DB9 interface device connected to its COMMON port. The eight channels are switched simultaneously via a knob located on the front panel. See the application diagram above. The Model 9928 is enclosed in a 2U, full rack size, all metal black chassis designed to provide EMI/RFI shielding and fit in a standard 19" rack.
Electro Standards can supply all your Network Cable requirements. Click here to reach our CABLES, COPPER NETWORK Webpage.
For custom network switches call our friendly customer support staff at 401-943-1164, email eslab@electrostandards.com, or complete our online form: /Products-Custom/Copper-Switch/
Don't forget to order your DB9 Cables!
Custom Length DB9 cables available for your switch installation.
State cable length (XXX) when ordering.
Part Number
Description
990127-XXX

XXX Feet, DB9 F/F, 9-Conductor Unshielded PVC Cable

990125-XXX

XXX Feet, DB9 M/F, 9-Conductor Unshielded PVC Cable

990126-XXX

XXX Feet, DB9 M/M, 9-Conductor Unshielded PVC Cable




All ESL products are available for export.
Electro Standards welcomes International inquiries: commutateur d'ordinateur, equipo interruptor, interruttore del calcolatore, interruptor do computador, dator switch.

Play 8-Channel DB9 A/B Switch, Simultaneous Control Video