BNC AutoScan Security Monitor Switch w/USB Remote
Featured Product from Electro Standards Laboratories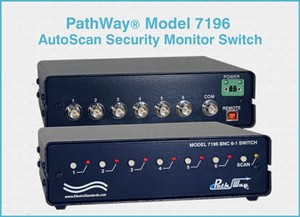 Model 7196 BNC/VIDEO/DVR 75 Ohm 6-1 AutoScan Security Monitor Switch with USB Serial Remote
Ideal Applications: Multiple Digital Video Recorder, Multiple CCTV Camera Security Monitor Systems!
AutoScan Security Cameras
Connects multiple DVR's to One Monitor


SPECIFICATIONS:
PORT CONNECTORS: (7) BNC female coaxial connectors are labeled 1,2,3,4,5,6 and COM.
REMOTE CONTROL: (1) USB Type-B female connector labeled REMOTE accepts ASCII RS232 Serial Data for Remote Control operation.
FRONT PANEL CONTROLS: (7) Pushbuttons labeled 1, 2, 3, 4, 5, 6, and SCAN.
FRONT PANEL LED DISPLAY: (6) Red LED's display switch position and power status. (1) Yellow LED indicates scan mode.
POWER: UL approved 100VAC/240VAC, 50Hz/60Hz wall mount power module supplies 12 VDC, 500mA to the unit. Has 2-prong, US, non-polarized plug.
DIMENSIONS: 8.15"W x 2.38" H x 7.27" D.
(20.8 x 6.1 x 18.5 cm)
WEIGHT: Approximately 2.1 lbs (1.0 kg)


FEATURES:
Each channel allows access to six multiple channel DVR/Camera networks from one laptop computer.
Both the Center and Shell of the BNC interface are switched.
All BNC ports are impedance matched to support 75 Ohm equipment.
Eliminates the need to plug and unplug cables.
Local control via front-panel pushbutton.
The REMOTE port accepts RS232 Serial Data ASCII commands for switch position and control.
Front panel LED's display present position and power status.
Front panel pushbutton controls.
Scan mode allows automatic switching of positions at a set time interval.
Remote USB ASCII commands that allow the user to control the switch position, lockout front panel operations, toggle scan mode, configure the scan for excluding ports, change scan interval, set default power up / down position, and obtain switch status.
The unit can be configured to maintain last set position on power loss and continue to pass data or to switch to a default power down position and continue to pass data.
On power up, the unit can be configured to maintain its position, to restore the position before the power down default, or to switch to default power up position.
The PathWay® Model 7196 BNC/VIDEO/DVR 75 Ohm 6-1 AutoScan Switch with USB Serial Remote allows the user the capability of sharing a single BNC interface device, connected to the Common port, among six other devices connected to the 1,2,3,4,5, and 6 ports. The Model 7196 is packaged in a slim desktop style enclosure.
The switch may be controlled manually via the front panel pushbuttons or remotely from a USB Serial port located on the rear of the unit. Switch position states may be attained via the front panel LED display or the Remote USB Serial port located on the rear of the unit. The switch also can be operated by using the Scan feature for automatic switching to enabled ports at a set interval. For more detail, request an operation manual.
Wide Range Power Option Available: (Cat No. 517277) CE, RoHS, and UL listed table mount power module, 100VAC/240VAC, 50/60Hz for use in place of the standard power module that is included with the unit. Has IEC 60320 C14 inlet. Ideal for international applications.
All ESL products are availabe for export.