CellMite Intelligent Digital Signal Conditioners
Featured Product from Electro Standards Laboratories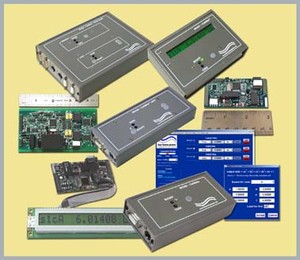 CellMite® Intelligent Digital Signal Conditioners
Whether you need a board to embed into your product, a single encased unit, or a network of signal conditioners, wired or wireless, your solution lies within the CellMite® family of Intelligent Digital Signal Conditioners. All units feature TEDS-Tag® Auto Load Cell/LVDT Identification.
CellMites® connect directly to a standard strain gage, load cell, extensometer, pressure transducer or AC LVDT transducer and simultaneously generate a serial output for connection to a PC and a +/-10V analog output. CellMites can be operated with a computer or simply setup by a computer and then used as stand-alone units. Units are available with up to 4 channels. CellMites® operate with LVDT, Strain Gage, and Mixed LVDT and Strain Gage channels.
CellMite® Features:
Conversion rate 60 per second
Storage for 3 calibrated load cells
Calibration options: 2 pt., mV/V
Scalable 16-bit +/-10V analog output
Tare, peak, valley
Units of Cm, mm, In, %, Lb, Kg, mV/V, and user- defined
CellView Lite and CellView Multi-Display Software are optional
The CellView Lite Windows-based Software provides an easy graphical user interface (GUI) to CellMite® products.
Easy guides through adding/removing CellMite® units.
Stores calibration data for three sensors.
Guides user through sensor calibration.
Ability to individually name CellMite® units.
Tare and reset peak and valley for sensor.
Set output data with a quadratic filter.
Save/Load the CellMite® unit and sensor setup information.
Setup a test to start and stop automatically.
LEDs indicate operational status of the CellView Lite interface.
Save date, calibration, and sensor test information to spread sheets.
Control output with two relay switches and analog output of voltage.
Units of Lb, Kg, In, Cm, %, and User-defined.
CellView Multi-Display Software Features:
Turnkey simultaneous data acquisition system for networked CellMite and CellMite LVDT units
Supports mix and match of CellMite and CellMite LVDT units on network
Ability to define 8 simultaneous data displays form multiple channels on multiple units
Save data, calibration, and sensor test information to Excel spreadsheets for all networked units
Guide user through sensor calibrations
Guides user through adding/removing networked CellMite units
Ability to select and name any networked units
Tare and reset peak and valley for sensors
Save/Load units and sensor setup information
Set output data with user-defined 5th order polynomial function
Setup a test to start and/or stop automatically with user selectable trigger events and delayed triggering
Multi sample rate data acquisition via user-definable logging profile
User-programmable analog output voltage range for attached CellMite and CellMite LVDT unit
All CellMite® products are available for export.

Play CellMite Intelligent Digital Signal Conditioners Video