DB9 A/B Auto-Fallback Switch, Contact Closure
Product Announcement from Electro Standards Laboratories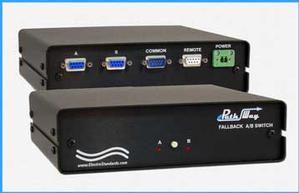 Model 4124 DB9 A/B Automatic Fallback Switch with Contact Closure Remote Port
Automatic fallback based on loss of data on port "A"
Special mounting bolts for on-board ship use.
The PathWay® Model 4124 DB9 Automatic Fallback A/B Switch with Contact Control Remote Port, allows the user the capability of sharing a single port interface device connected to the Common port among two other devices connected to the A and B ports with remote access functionality. Remote Control access can be accomplished through the Contact Closure Remote Port.
When in automatic fallback mode the unit monitors data activity on port A. If activity is lost, the unit checks for data on Port B and in the presence of data, switches to position B. The Model 4124 will maintain its connection to port B until data activity is detected on port A, at which time the unit will automatically return to the A position. If no data is present on either port A or on port B, the unit will stay in the A position and continue to monitor for data.
The user can override automatic fallback operation from the front panel or Remote Port and force the unit to operate as an A/B switch.
Features:
Ideal for fallback applications.
The network switch ports are transparent to all data.
All pins of the DB9 interface are switched.
Automatic Fallback Mode operates based on data monitoring of pins 2 and 3 of the A and B ports and automatic switching occurs after 3 seconds of data loss.
All switched signals are passed via latching copper contact relays that maintain their position and continuity in the event of a power loss.
Control of the switch position from a Contact Closure Remote Port.
Contact Closure allows the user to control switch position, lockout front panel operations and obtain switch status.
Front panel LEDs display switch position, the switch mode (automatic fallback or manual) as well as power status.
Rugged aluminum case provides EMI/RFI shielding.
Special mounting steel pass-through bolts mounted internally to bottom of enclosure for desktop mounting of on-board ship use.
Specifications:
Port Connectors: (2) DB9(F) connectors labeled A, and B, (1) DB9(M) connector labeled Common.
Front Panel Control: (1) Pushbutton for local switch control.
Display: (2) Front panel LED's display switch position and power status.
Remote: (1) DB9(F) connector on rear panel accepts contact closure switch commands for Remote Control operation.
Power: UL approved 110/120 VAC, 60 Hz wall mount power module supplies 12 VAC.
Dimensions: Desktop, 7.9" W x 2" H x 7.25" D.
Weight: Approximately 2.5 lbs
Data Activity "Watch Dog" Switch - Keeps Data Flowing!
Don't forget to order DB9 Cables!
For custom network switches call our friendly customer support staff at 401-943-1164, email eslab@electrostandards.com, or complete our online form: http://www.electrostandards.com/Products-Custom/Copper-Switch/
ESL Offers many products on GSA Schedule GS35F0286V.
All of ESL's products are available for export.
---