DB9 Switch Reroutes Data Between Any 1 of 4 Ports
Featured Product from Electro Standards Laboratories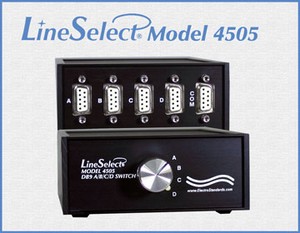 LineSelect® Model 4505 DB9 A/B/C/D Switch with Manual Operation

Ideal for device-sharing applications; Applicable to ANY DB9 interface devices
SPECIFICATIONS:
PORT CONNECTORS: (5) DB9 female connectors labeled A, B, C, D, and COMMON.
FRONT PANEL CONTROL: (1) Front panel rotary switch allows selection of switch position.
POWER: No power required. Manually operated.
DIMENSIONS: 4.18" W x 1.75" H x 6.68" D. (10.7 x 4.5 x 17 cm)
WEIGHT: Approximately 1.2 lbs. (0.6 kg)
FEATURES:
Allows quick connection to any one of four devices from one COMMON device.
High quality sealed switch with self wiping contacts.
The switch ports are transparent to all data.
All (9) pins of the DB9 interface are switched via break-before-make rotary switch.
Eliminates the need to plug and unplug cables.
Manual operation, no power required.
Attractive all metal black box packaging provides EMI/RFI shielding.
Lifetime warranty against manufacturing defects.
Custom length DB9 cables available for your switch installation.
The LineSelect® Model 4505 DB9 A/B/C/D Switch allows the user to reroute data between any one of four devices to one COMMON device with the simple rotation of a selector switch. All nine pins of the DB9 interface are suppported. No need to plug and unplug interconnection cables thereby eliminating connector wear and/or errors when reconfiguring networks. The Model 4505 is packaged in a slim desktop style enclosure.
Custom Network Switches are available. Contact us by phone, 401-943-1164 or email eslab@electrostandards.com
All ESL Manual Data Network Switches are available for export.