Data Acquisition/Process Control Instrumentation
Featured Product from Electro Standards Laboratories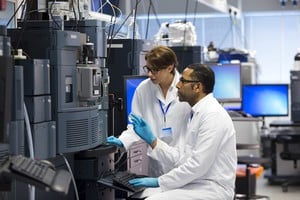 Electro Standards Contract Engineering Services Group offers High-Performance Customized Data Acquisition & Process Control Instrumentation to Support a Variety of Applications
(Available in Embedded Data Acquisition Boards, Encased Units, Din Rail Mounting)
Electro Standards will custom engineer and build to your specs. Because ESL has its own manufacturing facilities, the ESL Engineering Services Group can design, build, and deliver custom products for each project in prototype or production quantities. This guarantees functionality and performance along with unsurpassed quality control.
For further information, visit our Data Acquisition, Process Control & Measurement webpage by clicking here.
Examples of products recently developed include:
CellMite® ProD Model 4328 features dual 24-bit independent strain gage channels with simultaneous sampling at 15K samples/second that can also be configured as quad 24-bit strain gage channels sampled at 5k samples/second. In addtion Model 4328 features 12 additional 12-bit analog input channels with a throughput of 1M samples/second. Digital data acquisition is also supported with 64-bits of simultaneously sampled digital inputs. The digital inputs can be sampled at 20M samples/second.
The CellMite® ProD Model 4349 is a high performance data acquisition and sensor monitoring module from Electro Standards Laboratories that is suitable for embedded applications that require a ruggedized high speed analog and digital data acquisition unit that is accessible via an Ethernet network.
Model 4215 Smart Indicators - Microprocessor-based instruments designed for the measurement and control of strain gage transducer-bases systems.
Our Model 4215 combines force channels, encoder position channels, print capabilities, and RS232/485 serial communications into a versatile platform that can be customized to deliver the most powerful and affordable instrumentation in its class.
Contact Electro Standards at 401-943-1164 or e-mail eslab@electrostandards.com for assistance in designing your High-Performance Customized Data Acquisition products.
Experience Counts!
Electro Standards Engineering Design Team has the experience to deliver products that work!
Electro Standards Research & Development Group is significantly involved in a number of projects including Electromagnetic Aircraft Launch Systems (EMALS), hybrid electric vehicles, and precision instrumentation. We work with our client from theory to simulation, design, development, programming, etc., to develop working systems.
Electro Standards' R&D expertise includes: embedded controls, sensorless motor controls, multi-level inverters, controls modeling and simulation for motor drive systems, energy storage, and energy harvesting.
Electro Standards is versed in using many types of DSP/microcontrollers to implement controls including TI DSP TMS320C3X, TMS320F24XX, TMS320C67XX, ADSP Sharc, Motorola 68HCxx, Infineon DSPs, 8xCXX, and more.
Electro Standards has been involved in structural controls to reduce bending or vibrations and designed PI controllers, advanced LQG, H-inf controllers, and sliding mode controllers and more.
Electro Standards has expertise in designing and manufacturing precision instrumentation products involving strain gage and LVDT sensors, MIL spec custom cable assemblies, high-density fiber optic cable assemblies, and state-of-the-art copper and fiber optic network switches.
Our Engineering Team is ready to work with you. Call 401-943-1164 or e-mail: eslab@electrostandards.com.
For more information, please check out Electro Standards R&D Webpage.

Play Data Acquisition/Process Control Instrumentation Video