Digital Signal Conditioner-Wireless to 4 Miles
Featured Product from Electro Standards Laboratories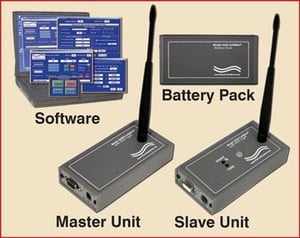 CellMite® Model 4329 Slave and Model 4329M Master Wireless Intelligent Digital Signal Conditioner System
Powerful load cell electronics!
Network up to 8 Load Cell, Strain Gage, Bridge Transducer Devices and transmit to Master Cellmite® and Laptop Computer.
Ideally suited for in-situ transducer conditioning and distributed process measurements.
FEATURES:
Communications to and from Remote, Wireless Slave (Model 4329), via the Wireless Master (Model 4329M, Cat. No. 302329) connected to the host PC RS232 serial port. The Wireless Slave also allows for direct serial connection to a PC.

Remote, Wireless Slave can be powered by the optional Model 4340 Battery Pack (ESL p/n 3064340).

Model 4329 Remote Slave connects directly to a standard strain gage, load cell, extensometer, bridge or pressure transducer.

Wireless communication up to 4 miles.

Wireless network with up to 8 CellMites

®.

Model 4329M Master directly connects to a PC.

Monitor and control networked units with CellView Lite GUI software.

±10V analog output can be used for local indication and control.

Shunt button on top panel of Remote Slave can be used to close the shunt relay and take a reading when connected to an analog display.

Tare button on top panel of Remote Slave can Tare readings when connected to an analog display.

CellView Lite software allows for measurement of load, peak, and valley in English and metric units. User-defined units are also supported in GUI software.

CellView Lite software allows data storage directly to PC that is compatible with Excel software.

CellView Lite software allows user to Tare readings at any point when data is streaming from the unit.

Model 4329 Remote Slave supports the calibration of up to three sensors. Calibration data is stored in the unit. CellView Lite software allows user to calibrate various types of strain-gage sensors.

Calibrations for load cells can be done using manufacturer's milli-volt per volt calibration factor, 2 or 6-point known mass/extension, or internal precision shunt calibration.

Two latching solid state relay switches are available for use through

CellView Lite software.

Auto Identification of calibrated load cells with TEDS-Tag

®.

Analog Output of either a set voltage or a voltage tied to the sensor reading with user defined scale factor and offset. Wide range, buffered ±10.00 volt output.
CellMite® features a nonvolatile memory for parameter and calibration storage, the ability to select between three transducers, multi-point and mV/V calibration, remote sense excitation, and a 24-bit internal resolution with 16-bit analog output. It compensates for transducer nonlinearities using its integrated 6-point calibration
The Models 4329M and 4329 comprise of a Wireless CellMite® System; a versatile precision system of instruments intended for the digital readout of strain gage sensors, such as load cells and and extensometers, using wireless communications between the CellMite® and the host PC. The Wireless CellMite System can be used with any member of the CellView familyof Graphical User Interface software including CellView LITE, CellView Multi-Display, and CellView Driver, a C-Based API that programmers can use to write their own user interface. CellMites® can also be used optionally with an analog digital display that connects directly to the unit and/or teh Model 4340 CellMite Battery Pack (ESL p/n 306340)
CellMite® Remote Slave Model 4329 Specifications:
Excitation: 5 VDC, Nom. Load 350 ohms.

Operation:

Input Range: +/-5.5 mV/V

Conversion Rate: 60 per second.

Tare, Peak, Valley

Precision Shunt 60K.

Outputs:

Analog: 16-bit, Scalable, +/-10V.

Serial Data: Multi-drop RS-232.

Storage:

For 3 calibrated load cells.

Calibration Options:

Calibration:

6 pt. Linearization Cal., 2 pt. Shunt.

Units:

Lb, Kg. In, Cm, %, User-Defined

Temperature:

Internal Temperature Compensation

Relay:

Resolution:

24-bit internal resolution, error 0.01%, +/-1 count.

Mechanical:

Size: 5.5" x 2.75" x 1.2" (19.5 x 9.7 x 4.2 cm)

Weight: 8.9 oz. (252g).

Din Rail mount is available.

Power:

5 VDC, (+/-10%), 230mA

Included Adapter 110/240VAC, 60/50Hz.

Compatible with 4 x AA NiMH Rechargeable Batteries

Wireless Operation:

Nominal Frequency 900 MHz

Classification: Mobile

This device complies with Part 15 of the FCC Rules.
CellView Lite Software for CellMite® Product Line Data Acquisition Software
CellView Lite Windows-based software provides an easy Graphic User Interface (GUI) to CellMite® Intelligent Digital Signal Conditioners.
FEATURES: CellView Lite Graphical User Intetface (GUI Software)
Guides user through adding/removing CellMite® units.

Stores calibration data.

Guides use through sensor calibrations.

Tare and reset peak and valley for the sensor.

Set output data with a quadratic filter.

Save/Load the CellMite

® unit and sensor setup information.

Setup a test to start and/or automatically.

LED's indicate operational status of the GUI.

Save data, calibraion, and sensor test information to spreadsheets.

Control output with relay switch.

User programmable analog output voltage.
Check out our complete line of CellMite® Intelligent Digital Signal Conditioners!
All Electro Standards' products are available for export.