Dual 4-Channel Cat5e Switch Simultaneous Control
Featured Product from Electro Standards Laboratories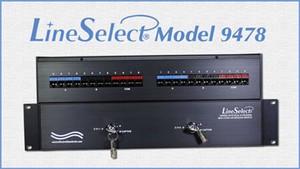 Cat5e Manual Network Switch, RJ45 Keylock Switches
Model 9478 Dual 4-Channel RJ45 Cat5e A/B Keylock Switch, Simultaneous Control
Applicable to switching ANY RJ45 interface, quickly and reliably.
SPECIFICATIONS:
PORT CONNECTORS: (24) RJ45 female connectors labeled A, B, and COMMON, for each of the 4 channels.
FRONT PANEL CONTROL: (2) Keylock switches on front panel. Each keylock actuator selects A or B (key captive position) switching all 4 channels simultaneously by inserting a style C key.
POWER: No power required. Manually operated.
DIMENTIONS: Rackmount: 19.0" W x 3.5" H x 8.22" D. (48.3 x 8.9 x 20.9 cm)
WEIGHT: Approximately 5.9 lbs. (2.7 kg)
FEATURES:
Both 4-Channel switches of RJ45 Cat5e A/B are switched via the two front panel Keylock actuators located on the front panel using a style "C" key.

Tested for Cat5e compliance.

Both keys are removable in the "A" position and captive in the "B" position.

All 8 pins of the RJ45 interface are switched via break-before-make keylock switch.

High quality sealed switch with self-wiping low impedance contacts.

Manually operated keylock switch. No power required.

Attractive all metal black box packaging provides EMI/RFI shielding.

Rackmount configuration is standard.

Lifetime warranty against manufacturing defects.
The LineSelect® Model 9478 enables each of four RJ45 Cat5e Common ports to select either of two network LANs or devices via A or B port RJ45 connectors with each of its Dual 4-Channel Groups. All four channels in each group are switched simultaneously via a keylock actuator located n the front panel. The key for each 4-Channel Group is uniquely keyed as a style C key.
The unit supports all 8 pins of the RJ45 Cat5e interface. No need to plug and unplug cables thereby eliminating connector wear. The LineSelect® Model 9478 is enclosed in a 2U full rack size, all metal black chassis designed to provide EMI/RFI shielding and fit in a standard 19" rack.
Custom Network Switches are available. Contact us by phone, email, or complete the Online Custom Products Form. /Products-Custom/Copper-Switch/
Electro Standards can supply all of your Network Cable requirements. Click here to reach our CABLES, COPPER NETWORK Webpage.
All ESL Secure Offline Switches are available for export.