Fiber Optic Switches, All Interfaces & Functions
Featured Product from Electro Standards Laboratories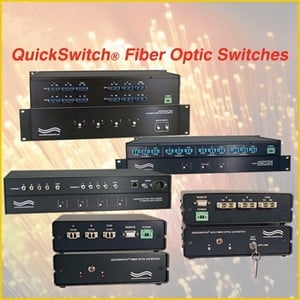 Electro Standards Laboratories has designed hundreds of QuickSwitch® fiber optic network switches for government, military, and commercial customers.
Electro Standards' staff of knowledgeable sales engineers is available to assist with product and application questions: 401-943-1164, eslab@electrostandards.com, www.electrostandards.com. Our engineers will work with you to determine if one of our standard products will meet your precise requirements, or if you can be better served with a switch expertly tailored to your exact specifications.
QuickSwitch® Fiber Optic Network Switches are designed for all interfaces.
Some features include:
Auto fallback switches automatically detect faulty lines and switch to a backup fiber optic network
Ability to send alarm signal upon faulty line detection and recovery
Internal circuitry insures isolation between devices/networks
Flexible switches that operate as a fallback switch or as an A/B switch
Password protected switches with high isolation for secure networks
GUI software for easy remote computer-control.
Multimode switch/converters with the fiber optic/twisted pair copper conversion built-in
Speeds to Gigabyte.
A/B switches, 4-way switches, 8-way switches.
Multi-channel, multi-position
QuickSwitch® Fiber Optic Network Switch Groups include:
ESCON Connector
LC Simplex
SC Duplex
ST Duplex
FC Simplex
LC Duplex
ST Simplex
To begin the Design Process for your Custom Fiber Optic Network Switch, call our knowledgeable Sales Engineers at 401-943-1164, or e-mail: eslab@ElectroStandards.com, or complete our Custom Product design form.
Electro Standards can also supply all of your standard and custom fiber optic cable requirements.
All fiber optic network switches designed by Electro Standards are available for export.
Most fiber optic switches on our Website are offered to government purchasers on GSA Schedule GS-35F-0286V.
Electro Standards Laboratories – Advanced Systems Design & Services