Fiber Switch, Extra Security&Electrical Isolation
Featured Product from Electro Standards Laboratories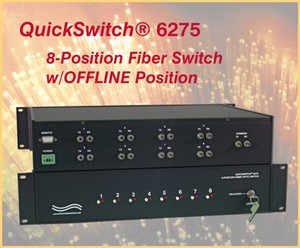 QuickSwitch® 6275 ST Duplex Fiber Optic 8-Position Switch with OFFLINE Position and Remote Serial Control
An all fiber switch providing extra security and electrical isolation, important for military mission control applications.
SPECIFICATIONS:
FIBER SIZE: 62.5/125 Micron
PORT CONNECTORS: (9) Fiber Optic ST duplex connectors labeled 1 thru 8 and COMMON.
REMOTE CONTROL: (1) DB9(F) connector accepts RS232 serial data commands.
CONTROLS: (8) Front panel pushbuttons allow selection of switch position.
DISPLAY: (8) Red LED's indicate switch position and power presence.
KEYLOCK: (1) Key operated front panel switch allows lockout of front panel pushbutton controls.
POWER: UL approved 100VAC/240VAC, 50Hz/60Hz wall mount power module supplies 12 VDC, 500 mA to the Model 6275. Has 2-prong, US, non-polarized plug.
DIMENSIONS: 19.0" W x 8" D x 3.5" H (2U rack height) (48.3 x 20.3 x 8.9 cm)
WEIGHT: Approximately 6.0 lbs. (2.7 kg)
8-POSITION FIBER OPTIC ST DUPLEX APPLICATION, FRONT PANEL KEYLOCK, OFFLINE POSITION, RS232 REMOTE: Model 6275 is an example of a fiber optic switch with an internal OFF-LINE position and a keylock to lock out the front panel controls.

A COMMON Fiber Optic Device is connected to the ST Duplex COMMON port with access to 8 other Fiber Optic Devices (Device 1 through Device 8), connected to the ST Duplex ports (Ports 1 through 8). There is an OFFLINE position which isolates data and preserves the network. The front panel Keylock in the OFF position locks out front panel pushbutton operations. A DB9 REMOTE port allows the user to remotely control the fiber optic unit via RS232 Serial data commands.
FEATURES:
One ST duplex fiber optic port is able to access any one of eight ST duplex ports.
All fiber optic signals are switched via break-before-make MEMS-based mirror/prism switch technology and supports Gigabit data rates.
All ports, 1 thru 8 and COM are ST Duplex, Multimode, 62.5/125 Micron, 1300nm.
Remote RS232 ASCII commands that allow the user to control switch position, and obtain switch status.
Front panel pushbutton control.
Front panel LED's display the switch position and power status.
Front panel keylock inhibits or permits pushbutton control.
An Offline position is a valid state to preserve network data and data isolation.
User can configure the switch to either maintain its position and data pathways on power failure or to revert to the Offline position during power failure.
Municipalities, schools, government: This product is on GSA Schedule!
The QuickSwitch® 6275 ST Duplex 8-position Fiber Optic Switch with Remote Serial Control allows the user to switch one Common ST Duplex port to any one of eight ST Duplex ports, or to be switched to an Off-Line position isolating all ports from each other. The system affords local and remote access functionality. The QuickSwitch® 6275 is enclosed in a 2U, full rack size, all metal black chassis designed to fit in a standard 19" rack.
Remote access can be accomplished by RS-232 commands sent via the Remote Serial Port. Users can remotely monitor status and control switch functions.
This high-quality network switch is available to city, state, and federal government purchasers at a discounted price and favorable payment and shipping terms via GSA Schedule GS-35F-0286V.
WIDE RANGE POWER OPTION AVAILABLE:
(Cat No 517277) CE, RoHS, and UL listed table mount power module, 100 VAC / 240 VAC, 50Hz/60Hz for use in place of standard power module that is included with the unit. Ideal for international applications.
QuickSwitch® is a registered trademark of Electro Standards Laboratories.
Check out our complete line of QuickSwitch Fiber Optic Switches.
Electro Standards can supply all of your Fiber Optic Cable requirements. Please click here to reach our Fiber Optic Cable Categories Webpage.

For custom fiber optic network switches contact our friendly sales support staff at 401-943-1164; or email: eslab@electrostandards.com, or complete our On-Line Custom Fiber Optic Switch Form.


All ESL products are available for export.
Electro Standards welcomes International inquiries: commutateurs à fibres optiques, interruptores de fibra óptica, switch in fibra ottica, switches de fibra óptica, fiberoptiska switcher.